Clients moving from out state want to know, "Who has the best pizza in Colorado Springs?" Our team is happy to help with all things real estate and food. Divide and conquer is what we did, sampling various pizza restaurants in Colorado Springs. Here is a list of our collective top 5 pizza restaurants in Colorado Springs.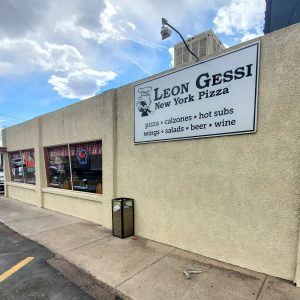 Leon Gessi New York Pizza is a locally and family owned business. Operating since 1974, they have had years of crafting the perfect pizza. Specializing in New York Style Pizza, they also serve delicious subs, calzones, and salads to the Colorado Springs area. Dishes are prepared fresh every day with the use of homemade ingredients. Leon Gessi believes pizza was meant to be eaten fresh out of the oven. Therefore, you can bet your food will be fresh and made to order.
Dining in provides an authentic, New York pizzeria feel. With memorabilia mounted to the walls, family style seating, and checkered tablecloths, you'll feel transported across state lines. In addition, the restaurant offers takeout as well as 14″ take-n-bake options. Order a whole pie for sharing or an individual slice for yourself. You cannot go wrong.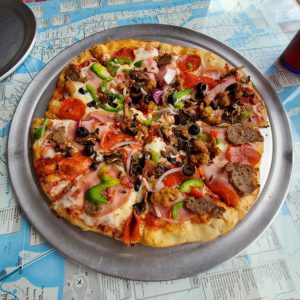 Last but not least, our team recommends the Kitchen Sink. If you enjoy traditional Supreme pizza, then you'll love this. It consists of sausage, bacon, pepperoni, Canadian bacon, meatball, onions, black olives, tomato, red and green peppers, mushrooms. Toppings galore and generous portions.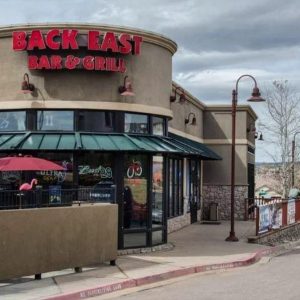 Owners Mike and Megan are some of our favorite humans. Located in the Briargate area of Colorado Springs, you can also find them just north in Monument. Michael has a long history in the pizza making business. His family opened up their first pizza shop in 1980 in Upstate New York. Since the age of 14, Michael has been helping in the kitchen and learning the art of cooking. In 1997, he moved to Colorado Springs to open a restaurant of his own, Back East Pizza. After marrying his sweetheart, Megan, they expanded their business into Back East Bar & Grill, and opened more locations.
We highly recommend the Philly specialty pizza. It's loaded with Cheddar and Monterey cheese, grilled steak, onions, and green peppers. If you're not a huge steak fan, they do offer chicken as a substitute. One beautiful thing about this restaurant is their Beast size pizza. True to the name, it's a colossal pizza the size of a baking sheet. In other words, bring your appetite and friends and family to share!
If you've got the time, then we highly recommend dining in. During your dine-in experience, you'll see a plethora of televisions on the wall, perfect for catching a sports game. In addition to the dart boards and live music, Back East has a great selection of local beers. The perfect compliment to a delicious pie.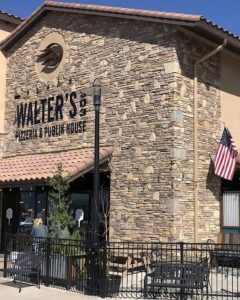 Walter's style pizza is always funky, never dull. Founder Mike Kienast opened Walter's303 in 2010 after learning the pizza and restaurant business from the ground up. His wife, Jen, suggested the name Walter's after mistakenly thinking that was Mike's middle name. Mike's real middle name is Wayne. However, the name stuck and Walter's Pizzeria and Publik House was born. Pretty funny if you ask me.
Located in the Flying Horse area of Colorado Springs, they also serve out of central and east Denver, as well as Littleton. The Colorado Springs location has a really cool atmosphere, with 20 rotating craft beers and great patio views. Here's what we recommend to order:
The Moses – Pesto Marinara, Pepperoni, Fresh Basil, Jalapeños, Mozzarella
The Big Fizz – Marinara, Pepperoni, Salami, White Onion, Green Bell Pepper, Mushrooms, Seasoned Ground Beef, Black Olives, Polidori Italian Sausage, Mozzarella
After that, walk on over to Josh & John's Ice Cream for a sweet treat. Check out our video Best Ice Cream in Colorado Springs for flavor suggestions!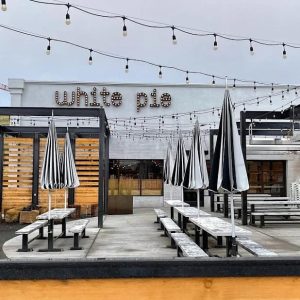 White Pie is honest food, made by family. The restaurant is inspired by New Haven, Connecticut pizza parlors and the Italian family feasts the Wallenta family grew up on. They are a scratch kitchen with a passion for quality local ingredients and seasonal cooking. Furthermore, they have craft cocktails, award-winning Frose, and outstanding hospitality. Located in downtown Colorado Springs, it's walking distance from so many shops and entertainment. It's the perfect location for a weekend outing or date night.
Day or night, we love the patio. Their outdoor dining has spacious, bench style seating, with pop up umbrellas for sun or rain. The ambiance at night becomes so cozy with the overhead string lights. The interior is eclectic with dangling lights and exposed ductwork. There's plenty of seats at the bar, where the bartenders mix up perfectly crafted drinks. What goes better with a drink than a fresh baked pizza?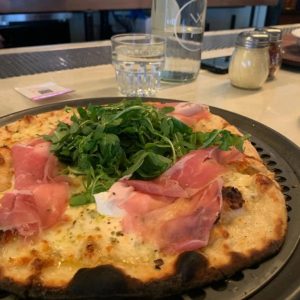 White Pie's pizzas are hand crafted and not robotically round! Instead, they are asymmetrical and rustic, charred and crispy. We ordered a pepperoni pizza, which comes standard with House red, mozzarella, pepperoni, pecorino-Romano, and oregano. Although it is simple, it tasted far from basic. We also ordered the Ava Angelini, which has garlic, mozzarella, Fior di Latte, ricotta, prosciutto, and arugula. We may have subsequently died and gone to heaven.
Slice 420 has two locations in Colorado Springs: east side off Oro Blanco and west side off Colorado Ave. This pizzeria believes New York style pizza is the best kind of pie. Their dough is thin and supple where it needs to be. The crust is thick and crispy so it's sturdy, yet flexible enough to let you get the perfect bite. For those who are health conscious or have an allergy, gluten-free crust is available. Cheese is something they never skimp on, and what's a pie without the sauce? Their sauce is made with just 4 ingredients. Sweet and simple.
Offering nearly 20 styles of gourmet pizzas, there's a flavor for every palette. Build your own pizza with toppings like: pepperoni, Italian sausage, meatballs, red peppers, Portobello mushrooms, and caramelized onions. Pizza by the slice does not limit these options. Choose from any one of the gourmet pizzas or load it up with your favorites. After the main course, you must top it off with a cannoli. There's always room for dessert! Here's what we ordered:
New York Margarita – marinara base, shredded mozzarella, fresh mozzarella, and cold pressed olive oil. Garnished with hard cheese and fresh basil.
The Mountain Man – red sauce, shredded mozzarella, pepperoni, Italian sausage, chopped bacon, and sliced homemade meatballs. Garnished with a hard cheese blend and fresh basil.
Pizza with a Mission
One thing we really love and admire about the owners of Slice 420 is their mission. They've dedicated their business and namesake to Christian and Stefany's daughter, Sofia. Sofia uses alternative medication to treat her seizures caused by epilepsy and cerebral palsy. Her family chose to sell their pizzeria in Florida, in order to gain legal access to Sofia's medication in Colorado. Slice 420 supports the mission to further efforts that would give all individuals freedom of choice regarding medical treatments.
About The Author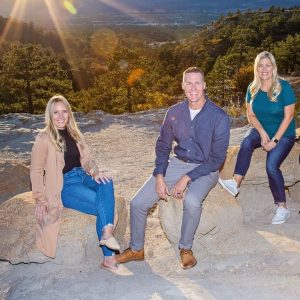 The team at My Front Range Living are a group of full time real estate experts serving Colorado Springs, El Paso County and the surrounding areas. Their knowledge of the local community and experience in the industry provide you incomparable value when buying or selling a home. With several years of experience in helping out of state buyers and sellers, they are the go-to team when it comes to relocating and helping Colorado feel like home.
Even if you're looking for an agent in another city or state, the My Front Range Living team has a network of experts that can connect you with the right professional.

Colorado Springs Relocation Guide
🏡 Moving to Colorado Springs? Download our FREE Colorado Springs Relocation Guide!
Learn More on the
My Front Range Living
every Monday! Thanks for watching!