Out of state buyers often seek recommendations such as: who has the best burgers in Colorado Springs? Our team is more than happy to take a break from real estate and go eat some burgers. We tried several locally owned Colorado Springs restaurants and here are our top 5!
Locations
Established in 2013, the Original Public House Pub & Grill is located just off Cheyenne Mountain on the southwest side of town. The word "pub" comes from the reference of old British taverns typically referred to as a "Public House." Opposed to a private house, this meant it was a place for locals and travelers alike to eat, drink, and be merry. It was often considered the heart of the village and could always be counted on for a good time. Colorado Springs is our village and the Public House's goal is for locals and visitors to gather at their establishment. 
The pub & grill has since opened a second location off Nevada and Fillmore, deemed The Public House at the Alexander. The name comes from the simple fact that the restaurant resides in the 1928 Alexander Film Company building. Once the biggest producer of film advertising, it produced over two thousand films annually on its 260 acre lot right here in Colorado Springs! The Alexander Aircraft company was also created out of need to transport crew and equipment all over the country. With over 600 employees and an average payroll of nearly $2.5 million, it truly is a piece of Colorado Springs history.
Thirdly, The Public House is joining veteran owned Red Leg Brewing Company! The PH Burger Bunker will be serving up the best burgers in town, paired with amazing views and awarding winning Red Leg craft brews. Our team adores both of these locally owned Colorado Springs businesses. Supporting locals is of great importance to us and we can't wait to enjoy two of our favorites in one spot.
The Food
Lastly and most importantly, the food! Here's what we recommend off the menu: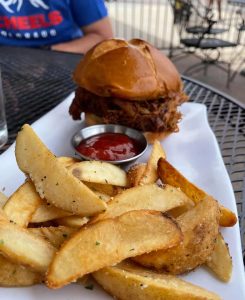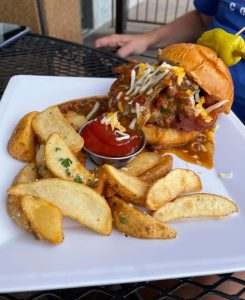 Fire Burger – jalapeños, pepper jack cheese, topped with Applewood smoked bacon, and sambal aioli

Mountain Burger – whiskey caramelized onions, sharp cheddar, and truffle aioli

Pub Classic – cheddar cheese, served with a side of lettuce, tomato, & onion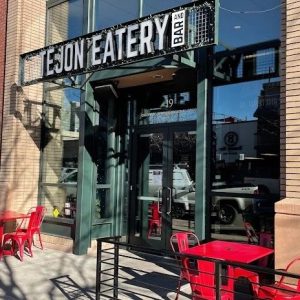 The Burger Bomb is located inside Tejon Eatery downtown. Tejon Eatery offers 10 varieties of restaurants in a 28,000 square foot superstructure. They offer everything from deli sandwiches to ramen & dumplings. Offering amazing street side dining and a large, second story balcony, soaking in the downtown vibe is easy. In addition to dining, there are 2 full size bars, bar games, and 16 TV's to catch your favorite sports games. What's more, it's home to the Rocky Mountain Motorcycle Museum.
Although there are many options, Burger Bomb is the place to eat! Choose from one of their hand crafted specialty stuffed burgers or build your own. Pair it with waffle fries or onion rings and your mouth and stomach will thank you.
Here's what we recommend: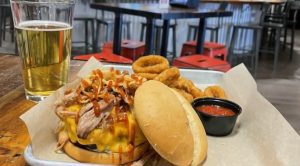 All American – bacon and American cheese stuffed, pickles, lettuce, tomato, onion, ketchup, mustard, and mayo
The Colorado – hatch chili and cheddar stuffed, smoked pulled pork, fried onions, Hawaiian roll
Forager – mushrooms and swiss stuffed, arugula, garlic aioli, onion jam, cream ale roll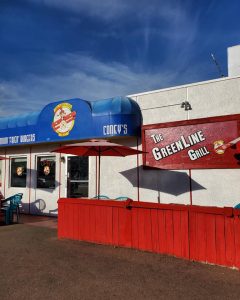 Since August 1st, 2013, Chef Bobby Couch brings the taste of central Oklahoma to Colorado Springs. The Green Line Grill serves up the world famous El Reno-style Onion 'Fried' Burger. Chef Bobby has an extensive culinary portfolio, including programs that are local to the Colorado Springs area. Therefore, his expertise in fine dining allows him to be very detailed and meticulous when crafting YOUR burger. Located on the outskirts of downtown Colorado Springs, this local burger joint gives a small, hometown feel. With the convenience of a quick walk to downtown bars and entertainment, this place can't be beat.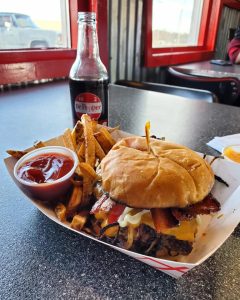 Green Line Grill has a 50's diner feel, boasting black and white checkered floors, classic dining tables, and glass bottle sodas. Burgers are made to order and sourced from local ingredients. After trying their burgers, we understand why they've won awards three years in a row. The Mushroom Swiss and Bacon Cheeseburgers were not only mouth watering, but generously sized. Dipped in homestyle ranch, their fries are simple and delightful and compliment the burgers perfectly.
Their Story
It started with a light conversation between Kevin and Suzette Megyeri about what kind of business would fit well in their family's commercial building in Downtown Colorado Springs. The couple already owned a successful Italian restaurant and wanted to try their hand at something new. When making burgers at home, they would melt a mound of cheddar cheese around the beef and grill it until it resembled a "skirt". And thus, the signature "Skirted Heifer" burger was born.
Deemed "Best Burger" six years running from the Colorado Springs Independent and the Colorado Springs Gazette, they've earned their reputation. Similarly, The Megyeris' formula gained nationwide recognition when they received a visit from Food Network's Guy Fieri. Their commitment to quality ingredients, as well as their commitment to the environment is what sets them apart. From grass-finished beef and house-made condiments, to their eco-friendly practices, every detail has been considered with great care. They've since opened a second location on the northside of Colorado Springs. The Dublin location features homemade Ice Cream Cookie Sandwiches and Colorado Crafted beer.
The Menu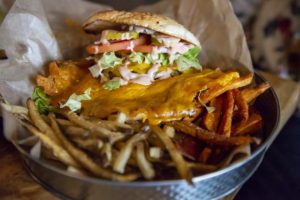 Hit a taste bud homerun every time with the Classic Skirted Heifer. Loaded up on a garlic focaccia bun, it features grass-fed beef, Skirted with cheddar cheese, lettuce, tomato, pickle, onion and Heifer Sauce. If you had a little too much to drink the night before, they've got just the thing. In other words, The Hangover. Guy Fieri of Diners, Drive-Ins and Dives dubbed this one a must try. Grass-fed beef, fried egg, Applewood bacon, cream cheese and Bloody Mary Sauce on a sesame seed bun. Off the menu, keep an eye out for the Burger of the Week. The creativity and ingenuity of the Skirted Heifer is sure to please.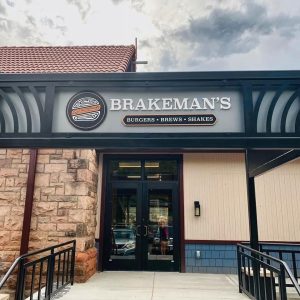 Brakeman's is their name and burgers are their game. Find this local burger joint in the Old Train Depot, just west of downtown. Situated in a renovated train station, the atmosphere is unbeatable. Boasting large windows and gorgeous mountain views, enjoy your meal and watch the trains pass by. In addition to top tier burgers, they serve up some awesome pizza, wings, nachos, seared ahi, and salads.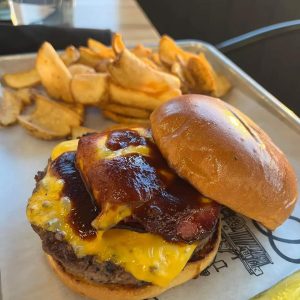 Before we get to the burgers, we wouldn't forgive ourselves if we didn't recommend the braised short rib nachos. Built on top of a pile of chips, they're topped with guacamole, pico, queso cheese, and roasted Pueblo chilies. Holy smokes, they are good. Speaking of smoke, let's talk about their Smokehouse Burger. With Jack Daniel's honey BBQ glaze, American cheese, and pecan smoked shoulder, it was a huge hit at our table. What pairs better with a burger than a milkshake? A boozy milkshake. Their peanut butter milkshake with a shot of peanut butter whiskey is an absolute game changer.
About The Author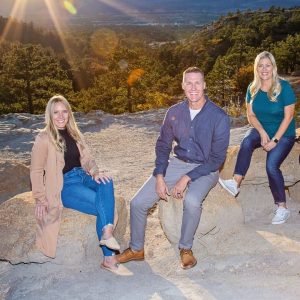 The team at My Front Range Living are a group of full time real estate experts serving Colorado Springs, El Paso County and the surrounding areas. Their knowledge of the local community and experience in the industry provide you incomparable value when buying or selling a home. With several years of experience in helping out of state buyers and sellers, they are the go-to team when it comes to relocating and helping Colorado feel like home.
Even if you're looking for an agent in another city or state, the My Front Range Living team has a network of experts that can connect you with the right professional.

Colorado Springs Relocation Guide
🏡 Moving to Colorado Springs? Download our FREE Colorado Springs Relocation Guide!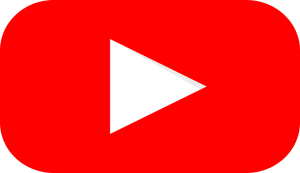 Learn More on the
My Front Range Living
every Monday! Thanks for watching!