Looking for delicious and romantic Valentine's Day restaurants in Colorado Springs? You're in luck! Valentine's Day is right around the corner and the My Front Range Living team has you covered! We are lucky to have so many delicious places to eat here in Colorado Springs and we hope you and your special someone will get the opportunity to visit one of our favorites.
Check out our other blogs for our favorite downtown restaurants, westside restaurants, and northside restaurants in Colorado Springs.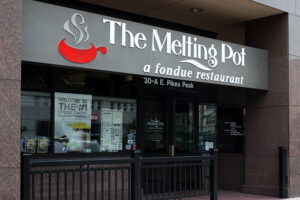 Enjoy gourmet fondue in a cozy atmosphere at The Melting Pot in Colorado Springs. This intimate fondue restaurant offers creamy cheese fondue; fresh salads with homemade dressings; entrée courses with marinated chicken, steak, and seafood; and mouth-watering chocolate fondue desserts. Vegetarian and gluten-free options including fresh bread and desserts from the local Coquette Bistro and Bakery are available. The underground location gives this Valentine's Day restaurant a romantic feel for couples and a fun atmosphere for friends and families.
Not wanting to break the bank? The Melting Pot's signature Thursdate night may be the perfect fit for you and your loved one. Experience a romantic four-course dinner for two featuring decadent Sparkling Chocolate Fondue. The staff will even set the mood with rose petals and candles on your table. Make the evening even more romantic and pair your amazing meal with one of their handcrafted cocktails. For just $49 per person, make the reservation and let The Melting Pot take care of the rest.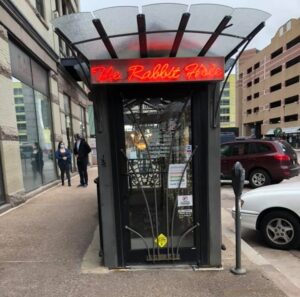 Colorado Springs' best kept secret is this upscale restaurant, known for their New American cuisine and cocktails. You may have driven, even walked, right passed it and had no idea. Journey down the subway steps and experience a new kind of nightlife. Enjoy eclectic cuisine, exotic cocktails, and haunting decor. With upscale New American cuisine and a Wonderland-inspired ambiance, The Rabbit Hole is the perfect place for late-night bites, end-of-shift cocktails, and that elusive "something different" you've been searching for all this time.
The Rabbit Hole is open seven days a week from 4 PM to 11 PM. Reservation times fill up quickly, especially for Valentine's Day, so they do recommend making a reservation 2 weeks in advance. Out of respect and consideration of all reservations, they do set table time limits. Therefore, expect to limit your meal to one hour & thirty minutes for parties 1-4 and two hours for parties 5 or more. Not sure what to order? Here's a guide to a fool-proof dining experience, based on what the staff recommends. For drinks, start off with an Ol' Fashion, White Rabbit, Duchess, Cherry Limeade, or Mojito. Choose from one of these main dishes: Rabbit Meatloaf, Buffalo Ribs. Then, end your meal with Carrot Cake for dessert. Perfecto!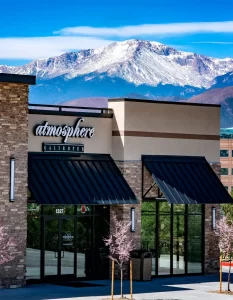 Mike and Megan Davis are also the owners of Atmosphere Gastropub, a north Colorado Springs restaurant. After hiring Chef Steven Bailey to take over the kitchen at Back East Bar & Grill, they eventually all got together to combine their skills and ambition to open up a Gastropub, in hopes of bringing some fun and class to the North End of town. Atmosphere Gastropub offers elevated drinks and a creative, fresh menu to an area that desperately needed culinary salvation.
Although Mike, Megan, and Steven have become personal friends, we hold no bias. This gastropub is a true standout. Our team hosted our Christmas work party here and here were some of our favorites. The Cup O' Bacon and Lobster Tots are absolutely delicious and perfect to share around a table. The Duck Poutine is incredible: Duck confit, cardamom gravy, Sawatch Artisan white cheddar cheese curds all loaded up on house fries. The Shaved Prime Rib Sandwich has shaved prime rib eye steak, creamy horseradish, and provolone cheese on a Challah bun. It is so tender, it practically melts in your mouth.
Although your stomach will be stuffed from the generous portions, save room for the Cast Iron Snickerdoodle. A cinnamon sugar cookie with bourbon vanilla ice cream and dulce de leche. We passed this around the table and each bite was better than the last. This is where food dreams come true.
The Peppertree Restaurant invites you to experience incredible food, panoramic views of the downtown city lights, and top-notch service. This Colorado Springs restaurant has been acclaimed as an exceptional dining tradition for over 35 years.
A Colorado Springs tradition since 1983, it was named among the "100 Most Scenic Restaurants in America" for 2017 by Open Table. Many dishes, including the famous Pepper Steak, are cooked to perfection tableside by a staff of tuxedo-clad waiters, making this a stunner of a Valentine's Day restaurant.
Although they are open for business Monday-Saturday, hours are limited to 5pm-9pm, so reservations are recommended.
Specialties
The Steakhouse at Flying Horse is a contemporary restaurant in a beautiful Tuscan style villa with dazzling views of the Front Range. The culinary team invites you to enjoy delicious appetizers, featured prime steaks and chops, along with innovative entrees and sides.
Accompany any dish with a hand-crafted cocktail from their full service bar or a bottle of wine from an extensive list of old and new world wines. The menu offers an exquisite selection of homemade desserts, marking the perfect ending to any meal. If you're looking for a luxurious date at an award winning establishment, Flying Horse has what you are looking for.
As far as Valentine's Day restaurants go, this one is quick to book! The steakhouse bar opens at 4pm daily, with happy hour running until 6pm, and dinner is served between 5pm-10pm. Nothing says "I love you" like a perfectly cooked Filet Mignon.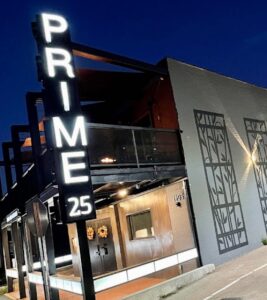 We love Jamie and her team over at Prime 25. It's just south of downtown, but we couldn't pass up an opportunity to highlight them. Prime 25 offers a menu featuring USDA prime aged steaks, seafood and signature cocktails. Dry aged pork chops, oysters, bone-in cuts of beef, chopped salad and more fill out the remainder of the menu options. Don't forget about their fantastic desserts menu. 
Prime 25 will leave you with a positive, long lasting impression. The moment you walk through the doors, you are instantly greeted with a warm, contemporary touch of copper, rich wood, glass & steel with an open kitchen to view. From there, expect to be well taken care of from your knowledgeable waiter and enjoy a relaxed, no-pressure dining experience. We personally love their Happy Hour, Tuesday – Saturday: 4PM – 6PM. The prices are great and it's perfect for a week night drink to reconnect and catch up with friends. Looking to really step up your game? This downtown Colorado Springs restaurant hosts live music every Friday night and it really adds such a nice ambiance to an already great atmosphere. On top of that, they now offer complimentary valet service to their guests! Pretty awesome if you ask me.
A slice of the coast right here in Colorado Springs. As Downtown's first fresh seafood eatery, Bonny & Read offers a fine dining experience with a nautical twist seven days a week. Indulge in the exquisite exclusivity of fresh seafood and steaks that you won't find anywhere else in Colorado. All seafood is certified fresh and flown in straight from the coasts.
Drop in for a romantic getaway, perfect for Valentine's Day. What makes this restaurant so perfect for you and your partner is the warm lighting of antique chandeliers. Enjoy a cocktail with privacy from the dim lighting, surrounded by bold artwork from local artist, Phil Lear.
Gourmet land-locked seafood is certainly no easy task, and it calls for a higher level of passion, skill, and patience. That's why Bonny & Read is committed to quality at every turn. All seafood is shipped to Colorado Springs from eco-conscious Seattle Fish Co., and comes stamped with reputable certifications, including the Monterey Bay Aquarium certification and the Marine Stewardship Council.
There isn't a whole lot of seating in this quaint restaurant, so be sure to reserve a spot ahead of time. They are open until 10pm, seven days a week. With the location being in the heart of downtown, it makes for an ideal Valentine's date night. Whether you catch an early bite and hit the local bar scene or see a movie and catch a late bite, Bonny & Read will be a focal point to remember.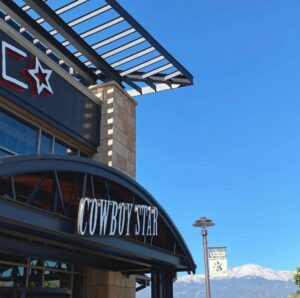 Cowboy Star Restaurant and Butcher Shop is the first restaurant in Colorado Springs to serve up a unique neighborhood fine dining experience by combining contemporary American cuisine with a western flare. The Cowboy Star menu features only the finest in select natural products from the nation's leading Certified Humane Angus herd along with the freshest seafood available under the Monterey Bay Aquarium's stringent Seafood Watch Standards.
What we love most, is that they are committed to supporting neighborhood farmers, fishers and producers by cooking food that recaptures the simple and pure tastes found in locally grown, natural and organic ingredients.
Therefore, you can expect the prices to reflect the quality. Because of this, we love this North Colorado Springs restaurant for special occasions, such as Valentine's Day! The Old West ambiance provides a laid-back and sleek background, which makes it perfect for just that. Cowboy Star is no one trick pony. Although they claim to have the "best darn steak ever", they offer a wide variety of entrees including chicken and seafood.
When you visit, ask your server what the seasonal favorites are. Amongst them are: Seared Diver Scallops: U-10 scallops served with mushroom risotto asparagus, roasted mushrooms, and radish garnish. Along with that is their Signature Steak Tartare: hand chopped tartare is prepared to order with capers, shallots and parsley, topped with a quail egg, served with toasted baguette. For dessert, they are recommending Chocolate Chip Bread Pudding: house made brioche with chocolate chips, topped with warm butterscotch sauce and dark chocolate ice cream. If that didn't make your mouth water, I don't know what will.
Walter Iser started his culinary career in 1964. Walter served in various capacities at prestigious establishments such as Castle Harbor Hotel in Bermuda, the Arizona Biltmore Hotel in Scottsdale, Plaza of the Americas Hotel and The Mandalay Four Seasons Hotel in Dallas. After serving as Food and Beverage Director at the exclusive Garden of the Gods Club in Colorado Spring for more than a decade, Walter achieved his vision and the Bistro became a reality.
Walter's Bistro in Colorado Springs features incredible contemporary fine dining including an exquisite seafood selection, just a few minutes from downtown. The bistro is open Monday – Saturday from 5pm – 830pm and reservations are recommended. What makes this a top choice on our list of Valentine's Day restaurants is the super cozy, romantic atmosphere. With modest prices and a simple, but decadent menu, Walter's is sure to become a repeat favorite.
About The Author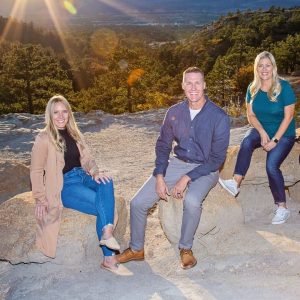 The team at My Front Range Living are a group of full time real estate experts serving Colorado Springs, El Paso County and the surrounding areas. Their knowledge of the local community and experience in the industry provide you incomparable value when buying or selling a home. With several years of experience in helping out of state buyers and sellers, they are the go-to team when it comes to relocating and helping Colorado feel like home.
Even if you're looking for an agent in another city or state, the My Front Range Living team has a network of experts that can connect you with the right professional.

Colorado Springs Relocation Guide
🏡 Moving to Colorado Springs? Download our FREE Colorado Springs Relocation Guide!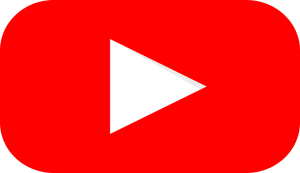 Learn More on the
My Front Range Living
every Monday! Thanks for watching!