It's the month of love and we're sharing ideas for things to do in Colorado Springs for Valentine's Day. Perhaps going out to a fancy restaurant in Colorado Springs is right up your alley. If so, check out our blog for restaurant recommendations. Looking for something more casual or to do with friends? Here is a great list of alternatives to the traditional dinner out.
Add a wow factor this Valentine's Day! Bring your sweetheart to the Colorado Wolf and Wildlife Center, just outside of Divide!  Enjoy a mini tour of the resident animals, as well as a special tour on Chinook's nature trail. Celebrate the history and hear the story of "The Lovers" on Sunday, February 12th from 9am-11am. With there being only one opportunity to join in on this unique experience, reservations are required. Tickets also include a flower for each guest, snacks, and seasonal drinks.
Tickets for guests ages 8-11 are $20, ages 12 and up are $40.
It is the Mission of the Colorado Wolf and Wildlife Center to:
Educate the public through tours and programs about the importance of Wolves, Coyotes, and Foxes to our eco-system.

Educate the public about the importance of Preservation and Conservation of the forests, land, and water that supports wildlife, flora, and fauna for future generations to enjoy.

Provide natural habitats and exceptional lives for the animals entrusted to our care since they cannot live in the wild.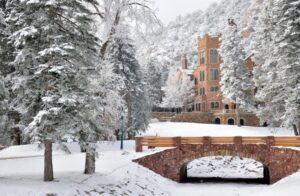 Connect with your loved one from February 10th-12th at the Glen Eyrie Castle. This special weekend is designed to help you enjoy a relaxed getaway as a couple and grow in your understanding of each other. Escape the hustle and bustle of everyday life and refocus your emphasis on prioritizing one another.
The beautiful scenery of Glen Eyrie presents the perfect backdrop for a weekend to remember. In addition to times of reflection, optional workshops, and delicious meals served in The Castle, you and your loved one will enjoy a special dress-up evening with live entertainment and dancing in The Great Hall on Saturday night. Sit back and let Glen Eyrie make this the best date night of your year!
Cheyenne Mountain Zoo is about sharing the wonders of the natural world with kids of all ages and providing memories for a lifetime at America's mountain Zoo. Named #3 Best Zoo in North America by USA TODAY 10Best Readers' Choice Awards, you're in for a trip that will last a lifetime. Take advantage of one of the following things to do for Valentine's Day!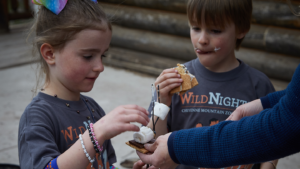 Enjoy a night off while your kids have a blast at the zoo's Kids Only Valentines evening tour. Drop off the kiddos for an amazing night filled with pizza, animals, and nature connection on the mountainside. The evening will start with a pizza party and dessert before adventuring amongst the stars to visit various animal friends during a private evening tour.
Every Starlight Safari evening program includes:
Roasting s'mores.
Feeding our giraffe herd their favorite lettuce snacks.
A private tour led by EdVenture staff.
An up-close animal meet and greet with a CMZ ambassador animal.
This Valentine's event is being held on Saturday, February 11th from 6pm-9pm. Children must be at least 5 years of age. Non-member ticket prices are $70.75/person. Member pricing is $65.75/person. Reservations are required.
Want a change of scenery on a weekend night? Enjoy a 2 hour private evening tour at the zoo for adults only, ages 21+. Start off the night with a beverage, then stroll under the stars to see what the animals are up to during the night. Guests will even get an opportunity to meet a Loft animal ambassador! If you book for Valentine's Day, your guide will focus on "Love is in the Air" themes from the animal kingdom.
DATES OFFERED:
Friday, February 10
Saturday, February 11
Tuesday, February 14
Although multiple dates are available, reservations are required. Non-member pricing is $40.75/person. Tickets for members are $35.75.
Veteran, teacher and woman owned, 1350 Distilling strives to create a welcoming atmosphere, with refined, great tasting cocktails and a family of best-in-class distilled spirits. They hold a focus on local and American-made ingredients and products. Above all, 1350 pledges 10%  of their profits to veteran and local charities.
If you're looking for things to do for Valentine's Day with your gal pals, this is it. Join the spirit team for a Galentine's Women of Whiskey event on Thursday, February 9th at 6:30pm. Plan for the event to last for approximately an hour and a half. Tickets are only $35/person, so grab your girls and enjoy a night out! Seating is limited and of course, proof of legal drinking age will be required.
Learn the difference between four award-winning 1350 Distilling whiskeys from their local whiskey expert, Leslie Gottesman, of Coaltrain Wine and Spirits. The evening will largely focus on the classic whiskey cocktail, the "Old Fashioned". Enjoy a fan-favorite, the Old Fashioned Flight, with three different variations of the Old Fashioned using three different 1350 Spirits including: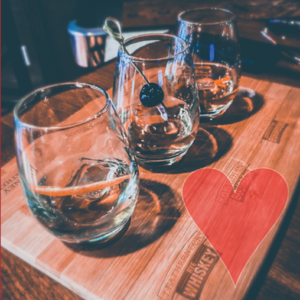 Old Guard Fashioned using our Gold Medal Guardian Bourbon (80 Proof / 40% ABV)
Honey Leather Fashioned using our Silver Medal Leatherneck (Rye) Whiskey (90 Proof / 45% ABV)
Fire Marshall Bill Fashioned using our Silver and Bronze Medal Five Alarm Cinnamon Fire Bourbon (80 Proof / 40% ABV)
Coupled with the drinks will be a delicious personal charcuterie box for each guest, made by Amazing Graze.
Red Leg Brewing Company is a veteran-owned and operated production brewery that offers stunning mountain views. The term "red leg" derives from the Civil War battlefields, where artillery soldiers wore a cardinal stripe on their pant leg to denote their location on the field of battle.
Join the Red Leg team on February 14th for a fun night. Enjoy your Valentine's Day with family and friends tasting a variety of craft beers. In their taproom, they offer made-in-house craft beers, as well as local guest taps, ciders, kombuchas, and wines. Challenge your mind with a game of trivia with host Allie from 6:30pm-8:30pm. Trivia will consist of a variety of questions including Picture Mashups, Name That Year, Music & Movie clips, Retro TV Theme Song and more! Prizes will be awarded for 1st, 2nd, and 3rd place winners. Good luck!
The Norris Penrose Event Center is hosting a Valentine's Bash on Saturday, February 11th! From 12pm-6pm, explore 100+ vendors selling their gorgeous work. Bring your kids and let their creative juices flow at the craft table while curating their own Valentine's Day cards. In addition, the first 50 kids will get a free gift. Enjoy delicious food trucks and most importantly, support small businesses! Be sure to stop by the Valentine's Day photo booth to take home a memento of you and your loved ones. This event is FREE, open to the public, and indoors – always a plus in Colorado!
About The Author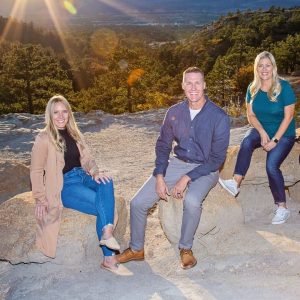 The team at My Front Range Living is a group of full time real estate experts serving Colorado Springs, El Paso County and the surrounding areas. Their knowledge of the local community and experience in the industry provide you incomparable value when buying or selling a home. With several years of experience in helping out of state buyers and sellers, they are the go-to team when it comes to relocating and helping Colorado feel like home.
Even if you're looking for an agent in another city or state, the My Front Range Living team has a network of experts that can connect you with the right professional.

Colorado Springs Relocation Guide
🏡 Moving to Colorado Springs? Download our FREE Colorado Springs Relocation Guide!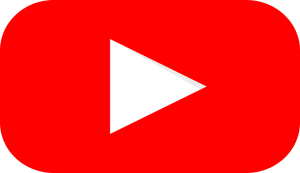 Learn More on the
My Front Range Living
every Monday! Thanks for watching!