December in Colorado Springs is an especially special time of year. Holiday season is upon us and we're looking forward to family time, traditions, and the overall cheer this time of year brings. Our My Front Range Living team is all about being festive and fun, and Colorado Springs has a ton of holiday activities to choose from!
Skate in the Park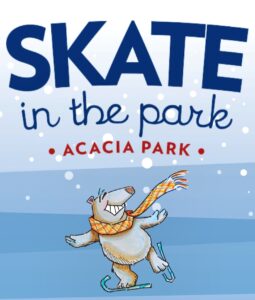 Skate in the park at Acacia Park will be open from November 11-January 31. Located in downtown Colorado Springs, this annual ice rink is a seasonal favorite for natives and tourists. Not only is it fun for the whole family, it's also affordable! Lord knows the last thing we need during December are more expenses.
Tickets are just $10 (skates included) and children 4 and under get in free with a paying adult. No reservation times are required and tickets are only available in person, at the rink. Acacia Park is cashless, so be sure to bring a credit/debit card. First responders and military receive $1 off admission!
Looking for a great date night idea? This is it! There's nothing more romantic than holding hands, ice skating under the lights. Location, location, location! With Acacia Park being in the heart of downtown Colorado Springs, take advantage of a night out! Within walking distance you'll find a vast variety of acclaimed bars, restaurants, and eateries.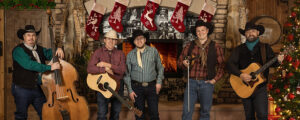 Christmas at the Ranch is open 4 nights a week, from December 1-December 22. The Cowboy Christmas Jubilee is set in a festival of twinkling white lights at the stunning, well-lit rock formations at the Flying W Ranch.
You will be captivated with a musical show performed by the world-renowned Flying W Wranglers. One of the most talented groups in Flying W history will perform a Western Christmas Jubilee that will make your heart sing, take you back to years gone by, and take you to a Babe in a manager where the redemption of the world began.
The Wranglers captivate and bring joy to all ages.  The Flying W Ranch is honored to host you, your family, your business, club or organization and is thankful that you would spend time during this wonderful season at the Ranch.
Tickets are already selling out, so make sure you reserve your day and time ASAP to make this December in Colorado Springs one to remember. Each ticket includes a ranch style BBQ dinner and entertainment. General admission for guests over 12 years of age is $65. Children ages 4-12 are $35. Children 3 and under are free, but must meet the following criteria: They must be 3 years old or younger. Child must sit on a parent's lap and eat off the parent's plate. If any individuals in your party are vegetarian or gluten-free, make a note of it during your reservation process and the Ranch is happy to accommodate.
Guests who visit the historic ranch will find themselves surrounded by striking red rock formations, hiking trails, ranch animals, and historical Old West demonstrations including Navajo rug weaving, silversmithing, and horse shoeing.  The legacy and the romantic spirit of the Old West lives on at the Flying W Ranch.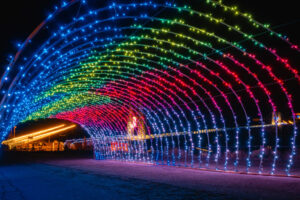 Royal Gorge Bridge & Park presents Bridge of Lights; a drive through experience of thousands of lights, one thousand feet high. The Bridge of Lights holiday event at the Royal Gorge Bridge and Park is a must-see experience. The beautiful suspension bridge, which spans the Royal Gorge, is decked out with thousands of lights for the holiday season.
This inaugural light display is a drive-thru event beginning mid-November through New Year's Eve. Visitors will drive across the bridge, enjoy the lights throughout the park, and take in the breathtaking views of the Royal Gorge at night. The opportunity to drive across doesn't come often, so this is a special time! There's also hot cocoa and cookies available to purchase while staying nice and warm in your own car! Add this unique location to your holiday light tour. It's sure to become a time-honored Christmas tradition.
Tickets are $35/car if you purchase online and $40 at the gate. Season Pass holders can reserve their spot online for $30/car. Dates and times are limited, especially throughout the first half of December.
December Dates:
1st – 4th
8th – 11th
15th – 31st (Closed Christmas Day)
Times:
5:30PM – 9:30PM on Fridays, Saturdays, and Sundays
5:30 – 8:30PM on Mondays, Tuesdays, Wednesdays, and Thursdays
Built by the citizens of El Paso County in 1982 to serve as a regional entertainment and cultural center, the Pikes Peak Center's downtown Colorado Springs location was planned as a part of the economic revitalization strategy for the downtown business district.
Since its opening in 1982, the Pikes Peak Center has achieved international acclaim for its design and acoustical qualities. Artists and critics alike have been lavish in their praise of The Center, which hosts in excess of 200 performances annually.
Here are the following shows for December in Colorado Springs:
11th – FIRST PRESBYTERIAN CHURCH'S CHRISTMAS JOY
12th-13th – USAF ACADEMY BAND'S HOLLY & IVY
15th – THE PIANO GUYS
18th – CHRISTMAS SYMPHONY
20th-21st – A COLORADO NUTCRACKER
27th – MANNHEIM STEAMROLLER CHRISTMAS
Our My Front Range Living team member, Mark, grew up listening to Mannheim Steamroller Christmas music with his mom. As you can imagine, it holds a tremendous amount of nostalgia and feel-good memories.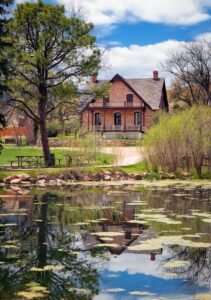 Rock Ledge Ranch Historic Site at Garden of the Gods stewards a diverse outdoor museum by engaging, inspiring, and educating guests with the cultural and agricultural stories of those who inhabited the Pikes Peak region from 1775-1909. During the Christmas season, Rock Ledge hosts a two hour Holiday Tea and Tour. Seats are $49 each and payment is due to secure each reservation.
"Celebrate the holiday season in the 1907 Orchard House with our annual Holiday Teas! Experience a traditional English Tea and tour of the country estate decorated with fresh greens in a festive style. Learn about Edwardian history and etiquette. All teas begin at 1 p.m. The lottery for this event opens on October 1st and closes October 30th. Beginning November 1st, we will call you to let you know if you are the recipient of a seat at the Holiday Tea."
For one evening only, on December 10, from 4pm-8pm, Holiday Evening transforms Rock Ledge with the sights, sounds, and aromas of this traditionally festive season. The evening features: wagon rides, old-time musical entertainment, lantern tours to the 1860s Homestead Cabin, Blacksmith Shop demonstrations, barn dancing, Victorian celebrations in the 1880s Rock Ledge House, and Edwardian festivities in the 1907 Orchard House. St. Nicholas will be in the Carriage House to visit with children and adults.
Tickets for Adults ages 18-54 are $8, while Seniors 55+ are $5. Youth ages 6-17 are $4 and children 5 and under are free! Military discounts available. Bring cash for drinks and snacks in the Carriage House, as well as face painting in the Studio.
Cheyenne Mountain Resort is an award winning resort in the renowned Broadmoor area. It's a wonderful place to vacation, staycation, or just visit to see first hand their spectacular display of holiday lights. The Mountain View Restaurant at the resort is hosting a Christmas Dinner Buffet on December 2nd, 3rd, 9th, and 10th. Prices are $50 for adults and $25 for kids, plus tax & gratuity, from 5pm-9pm.
However, if you're looking for something even more spectacular, Brunch with Santa might be right up your alley! On December 4th, 11th, and 18th from 10am-2pm, you and your family can enjoy a delicious breakfast with the jolly man himself. Adult tickets are $48 and kids are $25.
This Christmas, sit and enjoy your meal, relish in the magic, and fill your cup with your company.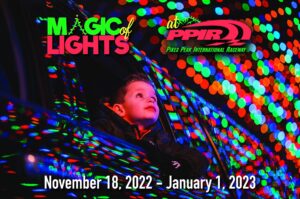 For the first time ever, Magic of Lights will make its debut at Pikes Peak International Raceway, in Fountain, CO. This family-friendly drive-through holiday lights festival features dozens of displays, illuminated canopies, and digital animation, all constructed with over a million individual LED lights to celebrate our grandest holiday of the year. 
Produced by Family Entertainment Live, "Magic of Lights" will bring Southern Colorado incredible light displays, including the 32 foot tall animated Mattel's Barbie, Prehistoric Christmas featuring life sized dinosaurs celebrating the season, Big Foot Monster Trucks, Winter Wonderland, as well as Magic of Lights favorites including the 12 Days of Christmas, Toyland and the 200 foot long Enchanting Tunnel of Lights.
Magic of Lights is a drive through experience designed for you to enjoy the lights and displays from the safety and comfort of your family car. Pikes Peak International Raceway is transformed into the ultimate holiday landscape, thus providing a brighter, bolder, and more colorful holiday season. Nightly shows begin on Friday, November 18, and will run through Sunday, January 1, 2023.
Tickets start at just $20 per vehicle! Plan on bringing the whole family!
Our team is a huge fan of the Electric Safari at Cheyenne Mountain Zoo. Electric Safari was voted 3rd Best Zoo Lights in the U.S. in 2019, 2020 and 2021 by USA TODAY 10Best Readers' Choice. From December 2-4, 9-23, 25 – January 1, 2023, you can see over 85 one-of-a-kind light sculptures while celebrating the season with the animals at the same time. Plus, enjoy photo ops with larger-than-life illuminated inflatable animals, located throughout the Zoo!
This year's event will celebrate 32 years of holiday cheer, and Santa Claus will be listening to wishes December 2-4 and 9-23. Come celebrate the holiday season with sparkling lights, animals and fun for the whole family!
Parking is free and military discounts are available. Zoo members are free and may enter an hour early, but advance timed tickets are still required.
Your timed ticket indicates the earliest time you can enter the Zoo.  Starting at your ticketed time, you have a half-hour window after that time to enter the Zoo (for example, if your ticket is for 4 p.m., you need to be in line to enter the Zoo by 4:30 p.m.). Once you're inside, you are welcome to stay at Electric Safari until the event ends at 8:30 p.m.
Non-member tickets are priced as follows:
The North Pole is an enchanting vintage amusement park nestled at the foot of Pikes Peak in Colorado Springs, Colorado. Home to Santa's Village and the jolly man himself –  the spirit of Christmas lives on all year long. At 7,500 feet above sea level—The North Pole offers crisp mountain air and panoramic views of Colorado Springs and the Pikes Peak Region. Since it is a true "mountain park," guests are encouraged to wear comfortable shoes for the most magical experience.
The North Pole offers over two dozen vintage rides, designed for families and small children, that have been restored to their full glory and are maintained yearly for good old fashioned, safe merriment. In addition, take in a show with Elmer the Elf, or watch a glass blower create beautiful custom ornaments before your eyes, tell Santa your biggest wish, and stop by the Carousel Café to keep your family fueled with food and sweet treats.
Holiday dates and hours are: November 3, 2022 – December 24th, 2022, 9:30am–4:30pm.
Peak Days: Weekends & Holiday Weeks
– Reservations required
– No discounts available
– General admission $30 per person age 3+ (Includes access to rides, shows, and attractions)
Non-Peak Days: Monday, Thursday & Friday -exception of Holidays Weeks
– No reservations required
– Military & senior discount available, $5 off ride wristband
– Free admission into park, ride wristband available for purchase for $30 (Ages 3–59)
Children 2 and under are always free on rides. On Peak Days, please include your little ones in the reservation by selecting the "Under 2" ticket. Children aged 2 and under must be accompanied by an adult on rides. Weekend tickets are released on the prior Monday and are selling out. In other words, get yours ASAP!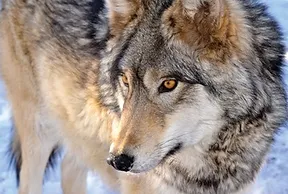 Add a WOW factor to this holiday season at the Colorado Wolf and Wildlife Center, just outside of Divide!  There is only one opportunity to join in on this unique experience. Therefore, reservations are required. On Sunday, December 18th, enjoy an included breakfast burrito with these beautiful creatures from 9am-11am.
Tickets for guests ages 6-11 are $20, ages 12 and up are $40.
It is the Mission of the Colorado Wolf and Wildlife Center to:
Educate the public through tours and programs about the importance of Wolves, Coyotes, and Foxes to our eco-system.

Educate the public about the importance of Preservation and Conservation of the forests, land, and water that supports wildlife, flora, and fauna for future generations to enjoy.

Provide natural habitats and exceptional lives for the animals entrusted to our care since they cannot live in the wild.
Pikes Peak National Forest
If you haven't yet, our team highly recommends cutting down your own Christmas tree. Trees may be cut on National Forest System lands northwest of Woodland Park, Colorado in the North Divide area and northwest of Woodland Park off Forest Service Roads 339 and 342. Permits are $20 and be sure to print the map and use it to navigate to the tree cutting areas. Signs will be posted.
Although National Lampoon's Christmas Vacation is a hilarious movie, let us all learn from Clark Griswold and not forget our saw. Moreover, be sure to measure the dimensions of your living room to make sure your tree will fit!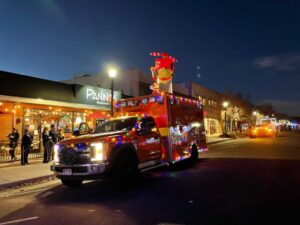 Welcome to one of the Pikes Peak region's most beloved holiday traditions, the Festival of Lights Parade. The Parade is put on each year by a dedicated volunteer board of directors who supervise two contract employees to bring together an event that delights crowds of 40,000-50,000 on Tejon Street in Downtown Colorado Springs each holiday season!
This year marks the 39th annual celebration and will be held on Saturday, December 3rd at 5:30pm.
Further, the parade features nearly 100 beautifully lighted and decorated entries and is broadcast LIVE on media sponsor KKTV. Local companies and organizations, large and small, create holiday fantasies to share with children of ALL ages. The Parade is a non-profit organization that is supported 100% by entry fees, donations and sponsorships and they greatly appreciate the community's contributions.
Certainly, with 40,000 plus people in attendance, parking downtown can be a challenge. Make use of the five parking garages, which all are only a block or less from the parade. The parking garages are located in these locations:
Plaza of the Rockies building on Colorado Ave. between Nevada and Tejon
Garage on Nevada and Colorado
Bus Barn on Nevada and Kiowa
Under the Antlers Hotel on Cascade – enter from W. Pikes Peak or Colorado Ave.
Parking Garage on Cascade and Bijou with a special rate of $5 after 3pm.
Parking lot at the US Olympic and Paralympic Museum at Sierra Madre and Vermijo (offering a reduced rate of $7.50)
The Broadmoor Resort has been a staple of Colorado Springs since the early 1900's. For instance, this hotel has been buzzing with celebrities since, and they have the wall of fame to prove it! This year, starting at the end of November, this iconic Colorado Springs resort will shine as millions of twinkling lights, dozens of festive decorations, and garlands galore provide the property with holiday cheer. You do not have to be a guest to enjoy the holiday lights on the premises. It's free to walk around and marvel at the beauty. We highly recommend dressing warm so you can take your time strolling around the lake. Some patrons even bring s'mores ingredients to enjoy at the outdoor fireplaces.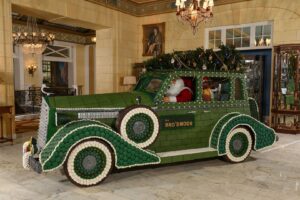 Don't miss the giant gingerbread house in the upper lobby of Broadmoor Main. The baking staff at The Broadmoor is second to none. In previous years we've seen them build The Cog, a Pikes Peak race car, etc. This year's gingerbread display boasts a 1937 Cadillac, complete with Santa driving it.
From events and entertainment, you'll find all you need to enjoy the holidays in Colorado Springs!
About The Author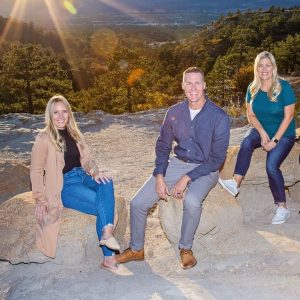 The team at My Front Range Living are a group of full time real estate experts serving Colorado Springs, El Paso County and the surrounding areas. Their knowledge of the local community and experience in the industry provide you incomparable value when buying or selling a home. With several years of experience in helping out of state buyers and sellers, they are the go-to team when it comes to relocating and helping Colorado feel like home.
Even if you're looking for an agent in another city or state, the My Front Range Living team has a network of experts that can connect you with the right professional.

Colorado Springs Relocation Guide
🏡 Moving to Colorado Springs? Download our FREE Colorado Springs Relocation Guide!
Learn More on the
My Front Range Living
every Monday! Thanks for watching!