Are you moving to Colorado and debating between Colorado Springs vs Denver? While both cities have great opportunities, there are some key differences. Let's find out which city best suits you.
Population Colorado Springs vs Denver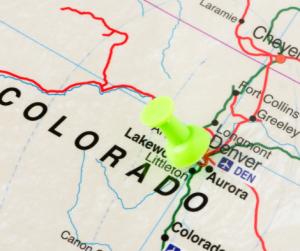 All the inhabitants of a particular town, area, or country is what defines a population. Governments use a census to quantify the size of the resident population within their jurisdiction. A census is an official count or survey of a population. It may also include various details of said individuals.
Colorado Springs Population
According to US census data, Colorado Springs is the State's largest city in terms of area and second only to Denver in population. Colorado Springs has a land area of 195 square miles and a 2021 estimated population of 498,879. World Population Review says, "Colorado Springs is currently growing at a rate of 1.29% annually and its population has increased by 2.61% since the most recent census, which recorded a population of 478,961 in 2010."
Denver Population
Denver is just 70 miles north of Colorado Springs, but is considerably larger. World Population Review notes, "The current population of Denver, Colorado is 738,594 based on our projections of the latest US Census estimates. The last official US Census in 2020 recorded the population at 715,522. Denver is currently growing at a rate of 1.59% annually and its population has increased by 3.22% since the most recent census, which recorded a population of 715,522 in 2010."
In short, Denver has a much denser population than Colorado Springs, with a more rapid growth rate.
Entertainment Colorado Springs vs Denver
Denver Events
Sports
The Denver Broncos is the primary tenant at internationally recognized stadium, Empower Field at Mile High. This American football stadium's name is quite literal. Empower Field at Mile High stands at an elevation of 5,280 feet above sea level. The stadium provides outstanding, unobstructed views for 76,125 fans on five levels of seating, including 8,200 club seats and 144 luxury suites. Twice as large as the original, it encompasses a total of 1.8 million square feet.
Ball Arena, previously named The Pepsi Center, is home to Denver Nuggets, Colorado Avalanche, and Colorado Mammoth. These are local basketball, hockey, and lacrosse teams. In addition, the 20,000 seat stadium welcomes some of the most well known musicians in today's limelight.
Downtown
Denver has an amazing, vibrant downtown scene. 16th Street is a pedestrianized mile long Street mall. Chalk full of shops, dining, and bars, it's a crowd favorite for tourists and locals alike. Downtown Denver is the only downtown in any US city to have a theme park. Elitch Gardens is a theme park and water park providing fun for all ages. Most importantly, Denver has a strong emphasis on art and culture. You can find a museum for just about any type of art, culture, race, and religion.
Music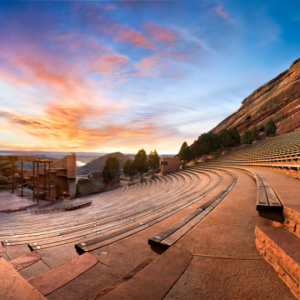 Similarly, Fiddler's Green Amphitheater and Red Rocks Amphitheater are just outside of Denver and host epic concerts. Fiddler's Green is the largest outdoor amphitheater in the Denver metropolitan area. Choose from one of 7,000 reserved seats or relax on the 10,000 person capacity lawn. Red Rocks is set in huge red sandstone formations, with a gorgeous view of the mountains to the west.
Outdoors
Lastly, outdoor living in Colorado. While Denver has great parks and paved trails, Colorado Springs is much closer to the foothills. Therefore, Colorado Springs has quicker access to trails and open space.
Colorado Springs Events
First and foremost, our team loves and supports all things local. We put together around 50 local events every week and post it to our social media pages. If you're ever in need of some weekend plans, be sure to check it out!
Sports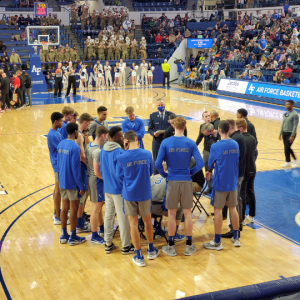 Colorado Springs has smaller, less robust arenas than Denver. However, they provide great entertainment and community gathering. Weidner Field is the new downtown stadium and is part of the City for Champions projects. Complete with an incredible architectural sphere and rings, it is easily a standout feature. Although it was primarily built for the Switchbacks soccer team, various concerts and other events are hosted here.
In the same vein, located off the Powers corridor, is UC Health Park. The baseball field has hosted the Rocky Mountain Vibes, an independent Minor League Baseball team, since 2019. If you're in the area on a Friday night, you'll commonly see fireworks going off after the game.
Colorado College has a very talented hockey team, but are put to the test against the Air Force Academy. Also sporting a strong football team, Air Force Falcons have won 3 conference titles. The academy draws quite a crowd when they play rivals: Army, Navy, or Colorado State.
Music
Coincidentally, the previously named sports venues also double as Colorado Springs largest concert venues. However, The Broadmoor World Arena, Boot Barn Hall, and the Pikes Peak Center all carry big time events. For instance, The Broadmoor World Arena has been host to hundreds of events, including Cirque Du Soleil, Disney On Ice, Trans-Siberian Orchestra, Professional Bull Riders, and The Original Harlem Globetrotters. Other notable events include Carrie Underwood, Alan Jackson, Jeff Dunham, Elton John. The Broadmoor World Arena in Colorado Springs has been around since 1998. The 7,343 fixed seat multi-purpose arena plays host to a diverse variety of specialty family shows, concerts, comedy and sporting events. The arena also features over 19,500 feet of floor space, enough to contain an additional 2,000 seats on the floor.
Boot Barn hall is a 15,000 sq. ft. venue that features international, national, regional and local musicians. The patio alone spans more than 7,000 sq. ft. and includes five fire-places and multiple HD TV screens, a 100-foot indoor/outdoor bar, and room for 408 in a banquet setting, 1,000 during live music, and up to 1,700 seated indoor and outdoor auditorium-style.
Furthermore, a $40 million 8,000 seat outdoor music coliseum is coming to Colorado Springs. It is projected to start hosting concerts in 2024, with luxury fire pit suites, rooftop bar, and unparalleled views of Pikes Peak.
Downtown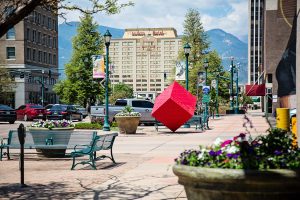 Colorado is famous for local craft beer and Downtown is buzzing with breweries. Combined with local shops, unique boutiques, and creative restaurants, it makes for the perfect afternoon outing or late night date night. Tejon is the focal point of Downtown Colorado Springs. Loaded with restaurants, bars, and clubs, nightlife is lively and active. Special events and holiday parades fill the street with festive cheer.
Thousands of special events and activities take place Downtown every year, most produced by a wide variety of civic and cultural organizations. First Friday Downtown features new art, live music, and special events on the first Friday of every month from 5-9 p.m. at dozens of galleries, retailers and nonprofits throughout Downtown Colorado Springs.
Property Tax Colorado Springs vs Denver
Property tax is lower in Colorado Springs than it is in Denver. Colorado Springs, El Paso County, has a property tax of .47%. Denver County is slightly higher at .54% of the home's value. According to Smartasset, property taxes in Colorado are used to support local services. In fact, 100% of property tax revenue stays within the county in which it is collected, meaning none of it goes to the state. That may be part of the reason that Colorado has some of the lowest residential property taxes in the country, with an average effective rate of just 0.49%. That gives the state the third-lowest rate in the U.S. It's also well below the national average of 1.07%. Another compelling argument to move to Colorado!
About The Author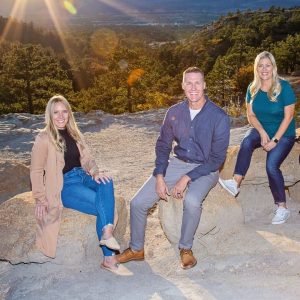 The team at My Front Range Living are a group of full time real estate experts serving Colorado Springs, El Paso County and the surrounding areas. Their knowledge of the local community and experience in the industry provide you incomparable value when buying or selling a home. With several years of experience in helping out of state buyers and sellers, they are the go-to team when it comes to relocating and helping Colorado feel like home.
Even if you're looking for an agent in another city or state, the My Front Range Living team has a network of experts that can connect you with the right professional.

Colorado Springs Relocation Guide
🏡 Moving to Colorado Springs? Download our FREE Colorado Springs Relocation Guide!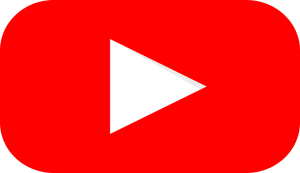 Learn More on the
My Front Range Living
every Monday! Thanks for watching!