COLORADO SPRINGS 4th of July
Are you seeking exciting ways to celebrate Independence Day in Colorado Springs? Look no further! In this article, we'll explore a range of events and activities that will ensure you have a blast this 4th of July. Whether you're a local resident or visiting the area, Colorado Springs has plenty to offer during this festive holiday. From parades to firework displays, let's dive into the top attractions that will make your 4th of July in Colorado Springs truly memorable.
Tri-Lakes 4th of July Celebration: A Day of Non-Stop Fun!
Located in Monument, the Tri-Lakes 4th of July Celebration promises an entire day packed with excitement. Start your morning with a scrumptious pancake breakfast before joining in on the invigorating fun run. As the day unfolds, immerse yourself in the lively parades, explore the vibrant street fair, and indulge in the flavors of the beer garden. Live music sets the stage for an unforgettable experience that will leave you feeling the patriotic spirit. Make your way north to Monument and be a part of this incredible celebration! Tri-Lakes 4th of July
Star-Spangled Symphony and Block Party: A Musical Extravaganza!
Head downtown to the Pikes Peak Center and be prepared to be captivated by the Star-Spangled Symphony and Block Party. This sensational event offers a free concert, allowing you to revel in the melodious tunes while enjoying the lively atmosphere of downtown Colorado Springs. Let the music fill your soul as you soak up the vibrant energy of this incredible community gathering.
Gold Camp 4th of July in Creek: A Spectacle for the Senses!
Venture west and south to Creek for the Gold Camp 4th of July celebration, a true feast for the senses. Immerse yourself in a world of vendors, captivating music, and engaging family activities. As the day draws to a close, be prepared for a dazzling fireworks display against the picturesque backdrop of Cripple Creek. However, the real showstopper of this event is the unexpected presence of donkeys. Yes, you read that right! These delightful creatures add a unique touch to the festivities, making it an experience unlike any other.
Fireworks Spectacular at Widener Field: A Visual Delight!
Enjoy an action-packed day by catching a Switchbacks game at Widener Field. After the game, prepare to be dazzled by the stunning fireworks display that will illuminate the night sky. This thrilling combination of sports and pyrotechnics is guaranteed to leave you in awe and create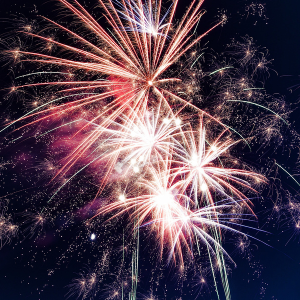 lasting memories of a magical 4th of July celebration.
Old-Fashioned 4th of July Celebration in Woodland Park: A Nostalgic Affair!
Head to Woodland Park's Memorial Park and indulge in an old-fashioned 4th of July celebration from 9 a.m. to 3 p.m. Engage in lively conversations, savor delicious food, and enjoy the lively music that fills the air. Quench your thirst with refreshing beverages as you revel in the nostalgic ambiance. The festivities create the perfect opportunity to bond with loved ones and celebrate the essence of American independence.
Block Party on Lake Street in Green Mountain Falls: An Enchanting Experience!
Green Mountain Falls sets the stage for an enchanting block party from 5:30 p.m. to 9:30 p.m. Witness poetry readings, captivating dance performances, and mesmerizing musical acts against the breathtaking backdrop of this scenic location. As the evening unfolds, prepare for a unique water lantern launch on the lake—an event that adds a touch of magic to the festivities. Don't miss out on this one-of-a-kind experience!
Family Fourth at Rockledge Ranch: Step Back in Time!
Immerse yourself in history at Rockledge Ranch and experience life in a Civil War encampment. From 10 a.m. to 5 p.m., you can witness reenactments, listen to soul-stirring music, and partake in carnival games. The wagon rides are sure to delight the kids, while you can savor the captivating ambiance and revel in the festivities of a bygone era. It's an opportunity to appreciate the past while creating cherished memories with your family.
Palmer Lake Festival on the 4th of July: A Fusion of Fun and Entertainment!
Make your way to Palmer Lake for the Festival on the 4th of July from 4 p.m. to 10 p.m. Indulge in delectable food and beverages while enjoying live music performances. The Renaissance Festival performers will entertain you with their delightful acts. Engage in face painting, games, and other lively shenanigans. The festivities culminate in a grand firework display that lights up the night sky, leaving you in awe of the vibrant celebrations. Festival on the 4th
Post-Game Fireworks at The Vibes: A Low-Key Option for Fireworks Enthusiasts!
If you prefer a more laid-back evening, head over to The Vibes and enjoy the post-game fireworks. After reveling in the exciting atmosphere of the game, sit back, relax, and witness the colorful display that will fill the sky. It's the perfect way to unwind while still experiencing the magic of fireworks on this special day.
Red Leg Brewing's Fourth of July Party: Unforgettable Fun Awaits!
For an all-encompassing Independence Day celebration, join Todd and the crew at Red Leg Brewing. This extravaganza promises an array of activities, including delicious food vendors, captivating live music, and even ax throwing. Let loose in the bounce house, explore the animal exhibit, and strike a pose in the photo booth. Of course, don't forget to savor the wide selection of beers and cocktails that Red Leg Brewing has to offer. Rumor has it that they will be unveiling several new beers on this festive occasion. Our team will be celebrating the holiday at Red Leg, you should too! It's an event you won't want to miss! For more info, click HERE
Conclusion:
This 4th of July, Colorado Springs has an abundance of thrilling activities to offer. From vibrant parades and exhilarating concerts to mesmerizing firework displays and unique festivities, the options are endless. Embrace the spirit of Independence Day, create unforgettable memories with loved ones, and bask in the joyous atmosphere that Colorado Springs has in store for you. Remember to check out the specific timings and locations of each event to plan your day effectively. Have a fantastic 4th of July celebration and make the most of this festive occasion!
For other summer adventures click HERE