Check out these westside Colorado Springs restaurants! We love to support our local restaurants in Colorado Springs, and we love to eat. For these very reasons, we created a series all about our favorite locally owned places to eat in Colorado Springs.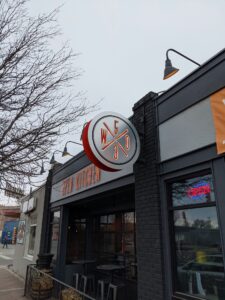 503W is an award-winning restaurant and bar, specializing in contemporary American with Asian influenced food and drinks. Conveniently located just outside of downtown Colorado Springs, this restaurant makes for a perfect date night. Enjoy a quiet meal in an inviting atmosphere, then hit the town for some late night fun.
Using fresh, natural and locally minded ingredients is of the utmost importance to 503W.  We love their eclectic menu and variety of flavor. 503W can accommodate every palate. For instance, you can order a classic burger or fried chicken sandwich, while Korean tacos, satay, and noodle bowls provide a different taste. Their craft menu coupled with a wine or spirit makes for the perfect pairing. Catch their Happy Hour every Tuesday-Sunday from 3pm-6pm and take advantage of the following deals:
$7 house cocktails: lovely house cocktails that they make in house, excluding the Korean Zombie.
$4 house wines: featuring Astica Chardonnay and Malbec from Argentina as go-to pours.
$4 wells: Lee's Vodka, Lee's Gin, Plantation 3 Star Rum, Plantation Dark Rum, Benchmark Whiskey, Exocitco Silver Tequila, & Asbach 8 yr Brandy.
$1 off any of their 30+ cans and 9 draft beers that are currently offered.
Pumpkin and cream cheese bread pudding with house-made caramel sauce has made it to the restaurant. Just in time for the holidays!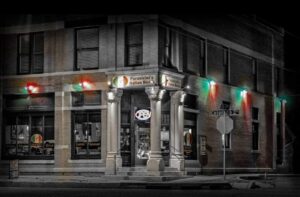 Paravicini's offers authentic Italian cuisine in Historic Old Colorado City. Handmade sauces and unique recipes have been in the family for many generations, that they now serve to you! Furthermore, they source fresh ingredients from local sources for many of their award-winning dishes. We love the support for other locals and refusal to compromise on quality!
You could say that Chef Franco Pisani has just the right recipe for success when it comes to preparing the finest Italian cuisine in Colorado Springs. Chef Franco expertly blends traditional family recipes with the freshest seasonal ingredients using contemporary Italian culinary concepts. He is so talented, in fact, he's been featured on many local news networks, and with Guy Fieri's, Diners, Drive-ins and Dives. Due to the demand of this popular westside restaurant, reservations are strongly recommended.
Paravicini really knocks it out of the park and sets the bar for all westside Colorado Springs restaurants. Not only do they serve classics such as ravioli, parmigiana, lasagna, pastas, salads, and steaks, they've also crafted unique originals. Prosciutto Wrapped Cod, Veal Tuscano, and Chicken Carsoni, are all *chefs kiss.* As you might expect from an Italian restaurant, they have an unbelievable wine list. Equally impressive is their dessert menu, consisting of tiramisu, cannoli, panna cotta, cheesecake, spumoni, and more. Come hungry, because Italians eat big!
Mountain Shadows has been family owned and operated for the last 30 years! This Old Colorado City restaurant brings mountain charm and comfort food to Colorado Springs' historic district. Locals and tourists looking for generous portions, top-notch service, and a quaint, cozy, friendly atmosphere can find it here.
They have a beautiful, spacious patio at the front of the building and a quaint interior that feels like mom's kitchen. Arguably their most famous menu item is their giant cinnamon roll. No joke, it is about the size of your face. They do sell out, so get there early. Whether you stay to eat or take it to go, heat it up and it will melt in your mouth. Similarly, their pancakes are some of the best I've ever had. Large in diameter, perfectly crisped on the outside, and pair deliciously with butter and syrup. Yum!
If you're not much of a breakfast sweets person, then you can't go wrong with their Rocky Mountain Roast Beef, breakfast burrito, or omelet. We absolutely rave over their green chili. It is some of the best in Colorado Springs and recommend you smother anything and everything in it. Much like Paravicini's, Guy Fieri himself paid them a visit back in 2015, as they were featured on East West Flavorfest.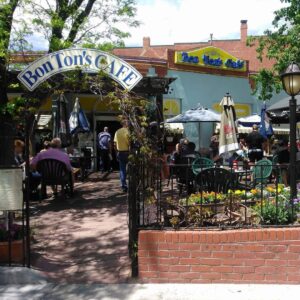 Located right in the heart of Old Colorado City, Bon Ton's serves their entire breakfast menu until 3pm, seven days a week. Fresh, homemade food will make your mouth water, your stomach full, and your face smile. There's something special about enjoying a warm, delicious meal in the beautiful outdoors and Bon Ton's has one of the best patios in Old Colorado City.
Choose from one of their many popular breakfast items: scramblers, pancakes, French toast, benedicts, burritos, skillets, and more. They've got a ton of options and even offer Early Bird specials on weekdays until 8:30am. Despite this westside Colorado Springs restaurant being known for their breakfast food, their lunch items are spectacular as well! Whether you're in the mood for a sandwich or wrap, soup or salad, steak or seafood, they've got it all. Friendly staff and cozy ambiance really sets this place apart.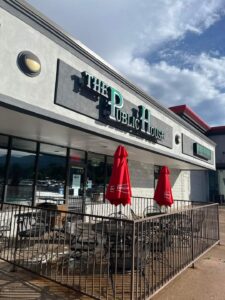 As you can see from the top of their website, they now have three locations! We're super excited for them and their success, but today we're focusing our attention on The Original Public House. First and foremost, Colorado Springs is the community they know and love. Opposed to a Private House, they've opened their home to us, as they strive for their business to be a gathering spot for locals and travelers alike. Eat, drink, and be merry! Which is exactly what you'll do at The Public House.
The atmosphere is really laid back, perfectly for a casual get together with friends and family. They often have live music or sports games on the TV. Their menu features burgers, all made from Colorado beef and served on locally made Challah buns. We highly recommend the Fire Burger if you like jalapeños, and the Mountain Burger if you enjoy whiskey caramelized onions. Chicken Satay, lettuce wraps, and salads are all lighter menu options on the lighter side. Pub favorites include tacos, wraps, pulled pork, and wings. From this section, my absolute favorite are the Sriracha Shrimp Tacos: Four corn tortillas served soft, stuffed with fried shrimp, fresh red cabbage, pickled carrots and onions, topped with sriracha aioli. They've got the perfect amount of spice! Continuing on, they offer a variety of sandwiches, knife and fork entrees, and pizza.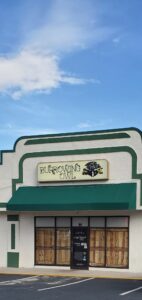 The Burrowing Owl comes in peace….love and plants. Finding a vegan restaurant can be tough, so look no further! They are a 100% vegan restaurant and bar in a cozy environment. Owners Tyler and Cody have a combined 58 years in the hospitality industry. Both are vegans who want to change the landscape with a "lead by example" mentality. Rather than preaching or being in people's faces, they simply want to create a cool timeless space for people to gather and be open and honest with each other while saving a little bit of nature and earth along the way.
When you eat or drink at the Burrowing Owl, your dollar goes a long way. Tyler and Cody are proud to support several nonprofits to help promote culture, animals, knowledge, justice, and more. In our opinion, this mission of change makes them one of the best westside Colorado Springs restaurants.
The atmosphere is a little funky and eclectic, but super cool. You may assume an all vegan menu would be limited, however, they have quite the assortment of options. Soups and salads, bowls, sandwiches and wraps, sloppys, mac & cheese, nachos, burritos, plus an extensive beverage menu. For dessert, they offer Sweet Elizabeth's Organics gluten free cakes. One really cool thing about Burrowing Owl is that they make their beverages in large batches, causing the flavors and options to rotate as they run out. Just by looking at their website, you can see they've got quite the sense of humor and wit, and that awesome energy translates to their business.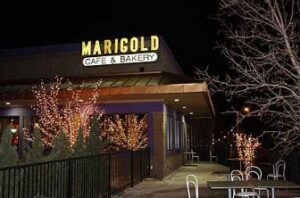 Marigold is collectively one of our team's favorite westside Colorado Springs restaurants, and you'll see why. Welcome to an elevated dining experience of premium steak, pasta, seafood, vegetarian and even gluten-free options! All sweetly finished with award winning cakes and baked goods.
Discover a culinary journey that will enchant your senses with fine dishes inspired by classic European bistros, with a touch of Colorado flair. Lunch and dinner menus are fairly similar with soups, salads, pizza, and sandwiches, with the dinner offering additional steak and seafood entrees. Looking for a company to cater your event? From light sandwiches and pastries to formal plated banquets, they have the creative staff along with ample space to customize for any event type. Tis the season and Marigold Café has Thanksgiving specials to feed the whole family. Let them do the cooking so you can be present and accounted for.
When it's all said and done, their award winning bakery takes the cake! Marigold's bakery serves up incredible cakes, tarts, fresh breads and other treats.
Cakes: A variety of slices and whole cakes. Try the award winning Double Chocolate and our favorite, Carrot Cake!
Breads & Pastries: Sink your teeth into fresh baked breads, muffins, scones and more!
Dessert Tarts: Delicious desserts and sweet treats to enjoy anytime of day!
Located just a few minutes drive away from the renowned Garden of the Gods, we recommend stopping by the bakery on a sunny afternoon and enjoying delicate French pastries as you tour the beautiful park. Bon Appetit!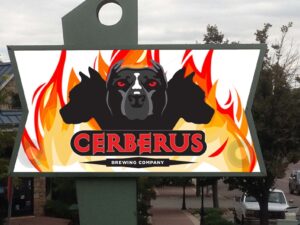 Cerberus Brewing Co. is a five-year-old brewery and yet another one of our favorite westside Colorado Springs restaurants. Featuring craft beer, a full kitchen with upscale pub food as well as a dog-friendly patio and beer garden. Take advantage of their full menu inside and on the patio. Due to the small size of our kitchen & limited kitchen staff, they are offering a limited food menu in the tent in the beer garden.
Executive Chef Nathan Van Horn sure knows his way around a kitchen. From start to finish, your meal will wow you. Start with some shareables like customizable wings, loaded fries and nachos, or curb your hunger with an individual soup or salad. For the main course, choose from offerings such as a Smoked Brisket Grilled Cheese, burgers, and mac & cheese paired with pub fries, macaroni salad, side salad, or pickled crudité on the side. Ask your server about the day's dessert, along with Elvis Cheesecake (mm, peanut butter) and chocolate mousse.
Troy Johnson is Cerberus's head brewer and you can bet they've got the best tasting craft beer you've ever had. They've got a wide variety of IPA's, Lagers, Belgians, Sours, Ambers, and a handful of guest beers, ciders, and seltzers. Alongside the brews is an extensive list of seasonal cocktails, classic cocktails, mules, spirits, wine and seltzers. Every Saturday and Sunday they host a 6-6-6 drink special from 11am – 5pm. $6 Bloody Mary • $6 Mimosa • $6 Michelada • $6 Screwdriver. Better call yourself an Uber!
Last, but certainly not least, on our list of westside Colorado Springs restaurants is The Peppertree. The Peppertree Restaurant invites you to experience incredible food, panoramic views of the downtown city lights, and top-notch service. The Peppertree of Colorado Springs has been an exceptional dining tradition like no other for over 35 years.
A Colorado Springs tradition since 1983, it was named among the "100 Most Scenic Restaurants in America" for 2017 by Open Table. Many dishes, including the famous Pepper Steak, are cooked to perfection tableside by a staff of tuxedo-clad waiters known for their impeccable service. Looking to celebrate a birthday, anniversary, or host a large party of up to 75 people? Peppertree invites you in.
The Peppertree is open for business Monday-Saturday from 5pm-9pm and reservations are recommended. Undoubtedly, the menu is full of delicious options, but in case you're stuck and not sure what to order, here are their claimed specialties: