This video features our favorite downtown Colorado Springs restaurants. We love to support our local restaurants in Colorado Springs! So, we decided to do a video series about some of our favorite locally owned/operated restaurants. If you are living in Colorado Springs and haven't checked out these spots, we encourage you to do so. Your taste buds will thank us!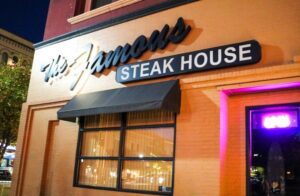 The Famous is Colorado Springs' finest upscale steakhouse and lounge located in the heart of downtown Colorado Springs, on North Tejon Street. Dine in an elegant and classic steak house environment and enjoy award winning prime steaks, fresh seafood, premium wines. The piano bar provides a provocative mix of atmosphere and entertainment. Featuring 30+ Colorado spirits and wines as well as local craft brews, it boasts local support and elegance.
The Famous prides themselves on prime steaks, fresh seafood, craft cocktails, and their menu reflects that. Steak options include: Filet Mignon, USDA Prime New York Strip, Ribeye Steak, American Wagyu Flatiron. Each is cooked to perfection on a 1200° broiler & finished with bone marrow and sea salt. If your mouth isn't already watering, just wait. Next, seafood! Appetizers include oysters, tuna tartare, shrimp cocktail, and crab cakes. Main courses offer salmon filet, ahi tuna steak, and Maine lobster tail.
Finally, cocktails. The Famous offers a variety of cocktails, beer, spirits, and wine. Each one of their four desserts come with a dessert wine suggested pairing. For example: FLOURLESS CHOCOLATE TORTE suggested pairing: Graham's "Six Grapes", CRÈME BRÛLÉE suggested pairing: "Bananeson", FRESH BERRIES AND CREAM suggested pairing: Merryvale "Antigua", and NEW YORK CHEESECAKE suggested pairing: Graham's 20 Year Tawny. This downtown Colorado Springs restaurant is sure to make your taste buds sing!
Also located on Tejon Street, is MacKenzie's Chophouse. As the name suggests, MacKenzie's offers fine steaks, seafood, and inventive martinis in a warm yet sophisticated wood-&-stone basement setting. A perfect combination for a classic dinner! Locally owned, MacKenzie's Chop House celebrates the art of dining with impeccable service in a casual, yet elegant atmosphere. Located in the Historic Alamo Building, MacKenzie's has been Colorado Springs' premier dining destination since 1997. 
Each week, MacKenzie's menu changes based on what is fresh from the market. It is updated on their website, so be sure to check what deliciousness they're serving up. Their "fresh sheet" typically includes two appetizers, three entrees, a dessert, and two specialty beverages to choose from. Lastly, The Chop House is very popular for business lunches, banquets, and pre-theater dinners. Spacious dining rooms, a classy bar and lounge flanked by three private rooms, make up the comfortable, intimate atmosphere. Their beautifully appointed private rooms seat from 10 to 60 people. With the holidays right around the corner, consider them for any work events or family gatherings.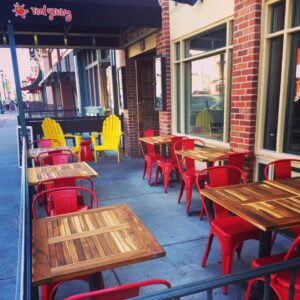 Red Gravy is an Italian Bistro that offers Italian classics and craft cocktails in lively brick- & wood-lined digs, with a full bar and small patio. What does "Red Gravy" mean? The term "gravy" comes from an attempt to explain some more authentic Italian dishes to the American consumers. The word "sugo" in Italian translates exactly to "sauce" in English. However, the word for a sauce with meat stewed into it, "ragu", had no English translation. "Meat sauce" was used in some areas to describe the dish as well as the Italian term "Bolognese".
When Italian restaurateurs and chefs went to the English dictionary to find a translation for a meat-based sauce, they found the word "gravy". The most popular dish which the new immigrants embraced using this term is "Sunday Gravy", a sauce made from all the leftover meats and sausages from the week's meals. These goodies are slowly cooked, throughout the Sabbath, into a deliciously rich sauce that is meant to be shared with the entire family.
The menu offers everything Italian: pizza, pasta, meatballs, ravioli, subs, salads, and more. In contrast to the previous two restaurants mentioned, this downtown Colorado Springs restaurant provides a much more casual, laid back atmosphere. Most impressively, Red Gravy launched Meals to Heal during the global pandemic. This effort was designed to provide food for healthcare workers, first responders and emergency services personnel while simultaneously supporting restaurants and the food service business community. Here at My Front Range Living, we are all about supporting the community and we love to see it!
Chef Brother Luck owns and operates both of these downtown Colorado Springs restaurants, which is why we've paired them together. Four by Brother Luck is a new American restaurant redefining Southwestern cuisine in a four course tasting menu style with wine pairings, creative cocktails and craft beers. Located in beautiful downtown Colorado Springs, Four by Brother Luck is the most popular destination for any culinary connoisseur and foodie.
Created in 2018, Chef Brother Luck drew inspiration from those who define the food world; the farmers, fisherman, hunters, and gatherers. The menu changes with each season and allows the chefs to utilize local and fresh ingredients. Four offers a four course experience or al la carte, with optional wine pairing. Look no further when planning your next event!  Four by Brother Luck offers specialized and custom menu options for special events for up to 75 guests. From office lunches and dinners to social gatherings, weddings and in home dinner parties- work with their attentive team to create an extra special experience.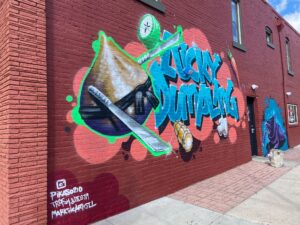 Lucky Dumpling is an Asian fusion restaurant, with open style dining and a really cool vibe. Their exterior wall is adored with a graffiti logo, making this location hard to miss. As a young boy growing up in San Francisco, Luck's parents would always take him on special journeys to eat dumplings throughout Chinatown. Luck would always order the same dish each time, which has since become his obsession; Dumplings.
When Luck enrolled into culinary school at 18 years old, his first question on the first day was, "How do I make dumplings from scratch?" It's safe to say he has not only learned, but perfected the craft. It's exceptionally delicious, with a much more casual and affordable palate.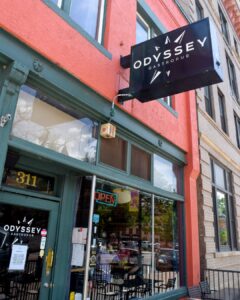 Odyssey Gastropub is known for their hand crafted cocktails, large beer selection, and high quality food. They are a budget friendly, social atmosphere who are also kid friendly and a great place for a date night or meeting business professionals. The atmosphere is very easy going, but you can tell they put a lot of care into their business. Proprietors Tyler and Jenny Sherman started Odyssey Gastropub guided by a simple goal: "We wanted to create a place where we would want to go!" Passion and creativity gave them the inspiration to bring it into reality.
Hand-finished map tables tempt you to dream your way into your next journey. Original art and other unique creations adorn the brick and plaster walls (NO neon beer signs at Odyssey!) A stunning turn-of-the-century sculpted ceiling whispers secrets long tucked away in the 110-year-old building. Even the overhead lighting will cause a quick second look and a smile. We really enjoyed the Bulgogi Bowl paired with some adult beverages. Odyssey offers brunch, boozy brunch, lunch, and dinner. They're really great any time of day!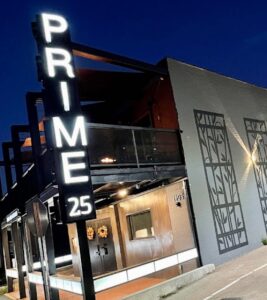 We love Jamie and her team over at Prime 25. It's just south of downtown, but we couldn't pass up an opportunity to highlight them. Prime 25 offers a menu featuring USDA prime aged steaks, seafood and signature cocktails. Dry aged pork chops, oysters, bone-in cuts of beef, chopped salad and more fill out the remainder of the menu options. Don't forget about their fantastic desserts menu. 
Prime 25 will leave you with a positive, long lasting impression. The moment you walk through the doors, you are instantly greeted with a warm, contemporary touch of copper, rich wood, glass & steel with an open kitchen to view. From there, expect to be well taken care of from your knowledgeable waiter and enjoy a relaxed, no-pressure dining experience. We personally love their Happy Hour, Tuesday – Saturday: 4PM – 6PM. The prices are great and it's perfect for a week night drink to reconnect and catch up with friends. Looking to really step up your game? This downtown Colorado Springs restaurant hosts live music every Friday night and it really adds such a nice ambiance to an already great atmosphere. On top of that, they now offer complimentary valet service to their guests! Pretty awesome if you ask me.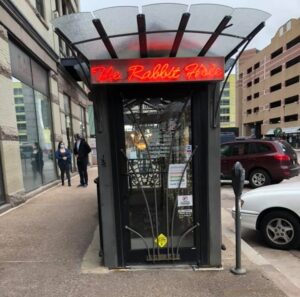 Colorado Springs' best kept secret is this upscale restaurant, known for their New American cuisine and cocktails. You may have driven, even walked, right passed it and had no idea. Journey down the subway steps and experience a new kind of nightlife. Enjoy eclectic cuisine, exotic cocktails, and haunting decor. With upscale New American cuisine and a Wonderland-inspired ambiance, The Rabbit Hole is the perfect place for late-night bites, end-of-shift cocktails, and that elusive "something different" you've been searching for all this time.
The Rabbit Hole is open seven days a week from 4 PM to 11 PM. Reservation times fill up quickly, so they do recommend making a reservation 2 weeks in advance. Out of respect and consideration of all reservations, they do set table time limits. Therefore, expect to limit your meal to one hour & thirty minutes for parties 1-4 and two hours for parties 5 or more. Not sure what to order? Here's a guide to a fool-proof dining experience, based on what the staff recommends. For drinks, start off with an Ol' Fashion, White Rabbit, Duchess, Cherry Limeade, or Mojito. Choose from one of these main dishes: Rabbit Meatloaf, Buffalo Ribs. Then, end your meal with Carrot Cake for dessert. Perfecto!
Say hello to Colorado Springs' oldest brewery! If you're going to name yourself after a special place like Phantom Canyon, you need a building just as special. Thus, it is located in the historic Cheyenne building, built in 1901. The building was named after Cheyenne Mountain and Chief Two Moons of the Cheyenne Indian Tribe, a luminary whose stone visage watches over the front entrance. Since opening in 1993, they continue honoring the spirit of the Phantom Canyon and Chief Two Moons.
As the name might suggest, Phantom Canyon is where craft comes first. Home to inspired and thoughtfully made brews and crafted drinks, this downtown Colorado Springs restaurant is equally as passionate about selecting and creating appetizers, salads, and entrees with style and substance. You cannot go wrong with any of their award-winning food, but do be sure to try their famous Phantom Canyon Beer Pretzels. Soft pretzels served with their perfect mixture of boxcar amber beer cheese fondue and sweet onion beer mustard. Holy smokes. It is unbeatable. Come for the food, stay for the drinks, Wednesday night karaoke, and open pool tables. Enjoy the laid back atmosphere, outdoor patio, and downtown vibes.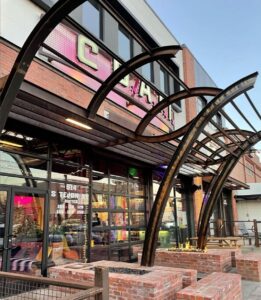 CO.A.T.I is an industrial style hangout and eight vendor food hall. The name CO.A.T.I is a nod to Colorado Springs' rebellious spirit, a call to the lost boys and an invitation to challenge everything. The coati is known in Mayan culture for its insurgent nature and is widely regarded for its intelligence, curiosity, and playfulness. We hope our guests feel a sense of this in our space and take this attitude out into the Colorado Springs community. In Mesoamerica, the coati is also referred to as "Tejon", a serendipitous tie to South Tejon. Coincident? I think not. 
CO.A.T.I Vendors
Haole Hawiian Grindz: Haole may mean outsider, but this 'Haole' dives deep to bring out the best blend of Hawaiian-local cooking you can find in this part of the Mainland.
Anju: Anju is a Korean inspired street eats restaurant. The name Anju means "Food that you eat when you're drinking." At Anju, they want to create food that is for all the different moments in your life and to make it as accessible as possible.
Luchals Soulful Seafood: Soulful Seafood at its finest. Luchals offers made-from-scratch seafood with a creative twist. Loaded fries smothered in crab & shrimp, fried catfish and fried okra are a few fan favorites.
Samich Shack: Named after popular landmarks throughout the city, these giant, gourmet sandwiches are served on soft French rolls. Complete your Samich Shack experience with funnel cake fries.
Ephemera: ​Ephemera's tasting menu invites guests to embark on an epicurean journey through a multi course format. The menu evolves continuously, offering return guests a new experience at each visit, living up to the ephemeral nature of the original pop up dinners.
Rival Bar Curious Cocktails: Rival Bar is a place for you to grab your favorite drink. Or instead, venture out and get a creatively crafted cocktail that will have a unique flavor profile you have been missing! Their goal is to provide you with drinks that make you say hmm and yum all at the same time.
The Paleta Bar: Paleta is Spanish for "ice pops." Handmade daily using only the finest ingredients to create their bars from fruit, sweet cream, and milk.
About The Author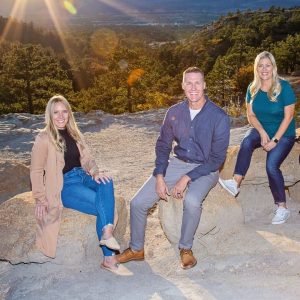 The team at My Front Range Living are a group of full time real estate experts serving Colorado Springs, El Paso County and the surrounding areas. Their knowledge of the local community and experience in the industry provide you incomparable value when buying or selling a home. With several years of experience in helping out of state buyers and sellers, they are the go-to team when it comes to relocating and helping Colorado feel like home.
Even if you're looking for an agent in another city or state, the My Front Range Living team has a network of experts that can connect you with the right professional.

Colorado Springs Relocation Guide
🏡 Moving to Colorado Springs? Download our FREE Colorado Springs Relocation Guide!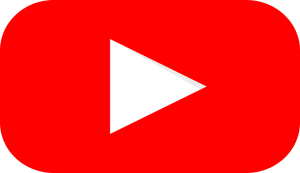 Learn More on the
My Front Range Living
every Monday! Thanks for watching!