The Colorado Springs real estate market has tremendous ebbs and flows, especially over the last 6 months. Which is why we've been anxious to see these numbers on a monthly basis. Whether you're living in or moving to Colorado Springs, buying or selling, this is great information to have.
Single Family Homes
As a reminder, our market updates cover the entirety of the Pikes Peak MLS. This includes Douglas County, Denver area, Teller County, mountain homes, and Pueblo. However, it still provides a solid snapshot of what's happening here in Colorado Springs. By gathering a sample of surrounding areas, it allows us to monitor the current health of our market and predict upcoming trends.
Home Sales in Colorado Springs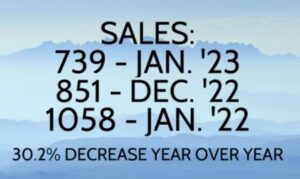 As you can imagine, single family home sales have dropped 13% from December 2022 to January 2023. Sales went from 851 to 739 month over month. We saw an even more dramatic decrease from this time last year, when there were 1058 sales. Thus marking a 30% decrease year over year.
Between the holidays and winter cold, December is a slow month for getting homes under contract, so it stands to reason that there would be less sales in January. The decrease from 2022 surprised us a bit and we believe it is tied to interest rates, but we'll get back to that.
Average Home Price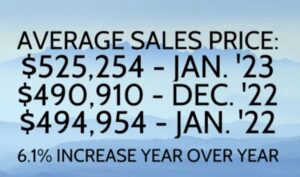 After witnessing the average sales price dwindle over the last few months, a 7% increase is well received. From December to January, the average sales price increased by $35,000. Month over month, that's huge. Year over year, we're looking at a 6% increase in home value. An annual increase of anywhere between 6%-10% is considered the "sweet spot" when it comes to sustaining a reasonable market.
What do these numbers indicate? Homeowners in Colorado Springs are seeing their investment pay off. Sellers should start feeling more comfortable about listing. Buyers can purchase with confidence in the market. Great news all around.
Median Home Price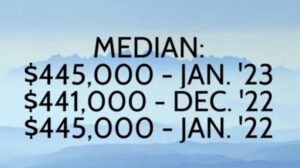 Colorado Springs real estate has a wide variety of home prices from neighborhood to neighborhood.  The median is calculated by taking the "middle" value of all homes on the market. Therefore, half of the homes are more expensive than the median and half of the homes are less expensive.
For instance, the median home price for the Pikes Peak MLS is $445,000. Year over year, this number has remained consistent. Realistically, this number will climb slowly and steadily over time as home values inevitably go up, but won't see dramatic fluctuation.
Active Listings
Buyers and sellers continue to be at a standstill. Total active homes from December to January decreased by about 300. Sellers are weary to list and buyers are caught in a vicious cycle of waiting for new homes to hit the market. In contrast, we had almost a 200% increase in active homes from this time last year.
Now, before we get ahead of ourselves and think we have a massive inventory, we're still not quite where we need to be. A 6 month inventory is necessary for a "normal market" and at our current pace, we only have 2 months of inventory. On top of that, home values are leveling off. We understand everybody wants a great deal and we can appreciate that, but based on average sales price going up and the number of active homes going down, there just isn't a whole lot of wiggle room. Fortunately, homes are sitting on the market for longer now, allowing buyers to take their time showing homes and considering their options.
Condos and Townhomes
Home Sales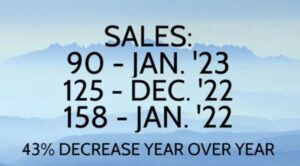 Much like we saw with single family homes, we are down in sales from December to January. Month over month, we saw a 28% drop in sales, from 125 to 90. More importantly, we also saw an annual decrease. Year over year, a hefty 43% fewer condos and townhomes were sold when compared to this time last year. Again, not a whole lot of contracts are signed in the month of December. So although this statistic is as we expected, it's still a hard pill to swallow.
Average Sales Price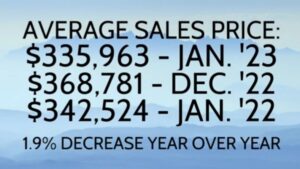 Last month's market update was unique in the sense that the average price of condos and townhomes actually went up. It seems as if when the price of single family homes drops, townhomes go up, and vice versa. That theory holds true this month, as the average sales price of condos and townhomes has gone down.
From December to January, there was a $30,000 decrease, which isn't a huge drop from the median, which we'll see here in a second. Average sales price in January of 2023 is down 1.9% from the year prior. Only a $7,000 difference, but you're not going to have a huge swing with condos and townhomes because of their lower price point.
Median Home Price in Colorado Springs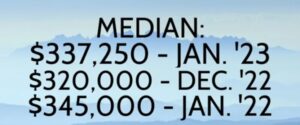 The median sales price went up from December 2022 to January 2023. While that one month increase sounds great, you have to remember the ebbs and flows throughout the year.
When you zoom out and look at the big picture, you're actually looking at an overall annual decrease of 1%. Again, not worth causing concern as it has remained relatively consistent.
Active Homes
Total active homes in the Pikes Peak MLS in January of 2022 was 79. An astounding 224% lower than where we are now. Man, are we glad to hear that! The number of active condos and townhomes has grown annually and monthly. In January 2023, there were 256 units on the market, a 5% increase from the month prior.
Despite fewer single family homes hitting the Colorado Springs real estate market, there are more condos and townhomes becoming available. This is great for those who are: entry level buyers, looking to downsize or have less home maintenance, or in a time crunch to buy.
Colorado Springs Market Update
Homes in the Colorado Springs real estate market are currently sitting on the market for an average of 50 days. Just since December, we've added nine days to that average. We're continuing to see days on market go up, but the reality of the situation is that it is not affecting home value. Home values have remained strong and steady year over year, with monthly fluctuations. Our market is really unique right now. As we find balance after a turbulent couple years, buyers and sellers are working to find some common ground. Sellers are hesitant to list and don't want to see for less than X amount. Buyers are in no hurry to purchase and want a good deal.
Believe us when we say, compromise will go a long way. If there is a good deal out there, it does not sit for long. Buyers, if and when that good deal comes, be ready to act quickly and be willing to negotiate. Sellers, as your home sits with less interest, be prepared to come down, whether it be in concessions, price point, or buydowns. We will always have ups and downs in real estate. But, keep the bigger picture in mind – long term investment. Inventory is steadily increasing year over year, which is exactly the path we need to continue on in order to reach that 6 month mark.
Incredibly low interest rates in 2020-2021 opened the floodgate to buyers. Now that interest rates have gone up by several percent, we're not only seeing buyers qualify for less, but fewer buyers all together. Sellers are having to come to terms with the fact that demand is leveling out and they aren't receiving multiple offers and over asking buyouts. From our perspective, the homes that still sell quickly and gain the most traction are: well maintained, in desirable neighborhoods, and appropriately priced. 
About The Author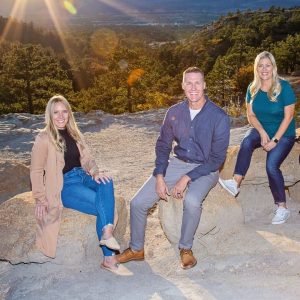 The team at My Front Range Living are a group of full time real estate experts serving Colorado Springs, El Paso County and the surrounding areas. Their knowledge of the local community and experience in the industry provide you incomparable value when buying or selling a home. With several years of experience in helping out of state buyers and sellers, they are the go-to team when it comes to relocating and helping Colorado feel like home.
Even if you're looking for an agent in another city or state, the My Front Range Living team has a network of experts that can connect you with the right professional.

Colorado Springs Relocation Guide
🏡 Moving to Colorado Springs? Download our FREE Colorado Springs Relocation Guide!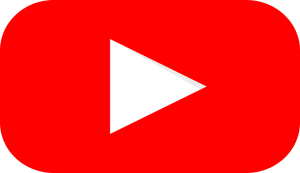 Learn More on the
My Front Range Living
every Monday! Thanks for watching!