Our team has been anxiously watching the numbers for Colorado Springs real estate over the course of the last several months. This month, we're taking a break from our holly jolly holidays to bring you statistics from November's Colorado Springs housing market. Whether you're thinking about moving to Colorado Springs or are currently living here, it's valuable to know where the housing market is headed.
Single Family Homes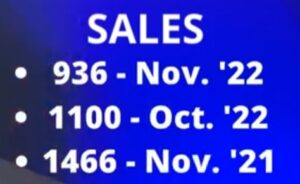 Single family home sales in the Pikes Peak MLS have dropped 36% from November 2021 to November of 2022. Similarly, we've seen a steady decrease in sales month over month. In October 2022, there were 1100 single family home sales, while only 936 were sold in November. Although numbers are continuing to shift, we have yet to be alarmed. After a couple years of unprecedented supply and demand, we anticipated a downhill swing to compensate.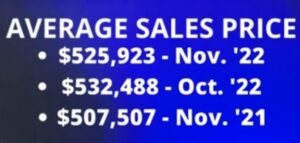 The average sales price of single family homes has been playing a bit of yo-yo from month to month. From October to November, sales prices went down from $532,500 to $526,000. Now, it's important to keep in mind that while prices may fluctuate, we are still seeing an annual increase of home prices. This is critical to the stability of our market and an indication that we are not entering a crash.
Year over year, we're currently seeing home values increase by 3.4%. Sitting between a 6%-10% rise in home value is what we call the "sweet spot" for sustaining a reasonable market. Although we've seen the year over year appreciation decrease slightly over the last few months, it's important to remember we're still counteracting the 20% increase we saw in recent years.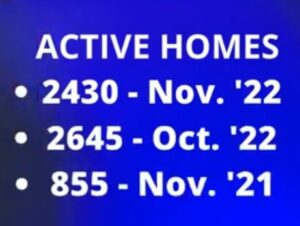 Although we saw a considerable month over month decrease in active homes, 2645 to 2430, we're thrilled to see inventory growing year over year.  Year over year, active homes on the market have absolutely skyrocketed. The Pikes Peak MLS saw a 184% increase in inventory from 2021, when there were only 855 homes for sale. In a perfect world, the Colorado Springs real estate market can sustain a 6 month inventory, and we certainly aren't going to get there with a drop in active homes.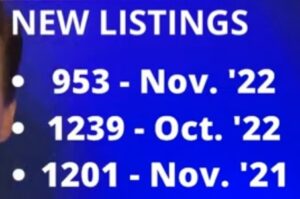 In November of 2022, there were only 953 new listings, which is way down from October when there were 1239. Month over month, we've seen a steady decrease in new listings, to the tune of 23%. Year over year, we are down from 1201. This is a considerable drop. Nearly 25% less homes are coming on the market. What do these numbers tell us?
What we're experiencing is that buyers right now are quite picky. After years of buyers getting the short end of the stick, they're now looking for a good deal. However, that's hard to come by when sellers aren't listing. Sellers have become increasingly timid. Homes that do list are sitting for longer and buyers now hold more cards. For instance, buyers went from needing to offer over asking to now being able to offer less, get concessions, and even rate buydowns.
Despite the change in the housing market, we believe sellers are still receiving market value for their homes. Gone are the days of multiple offers, crazy bidding wars, and paying tens of thousands over asking. Contrary to other's beliefs, we're really excited to see this change. We see this change of pace as the start of, what we consider to be, a sustainable market.
Townhomes and Condos
Townhomes and condo sales in Colorado Springs followed the same trend as single family homes. Sales went down from 150 in October, to 136 in November. This time last year, there were 229 townhome and condo sales in the Pikes Peak region, marking an annual decrease of 40%.
The decrease in sales has a direct tie to interest rates. When interest rates were record low, it opened the market to more potential buyers. Therefore, individuals that couldn't have otherwise owned, now had the opportunity to purchase at entry level. Therefore, more condos and townhomes sold, due to their lower price point. With higher interest rates, the pool of buyers is smaller.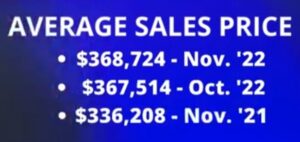 Now here's something really interesting. The average sales price of townhomes and condos went up. From October to November of 2022, average sales price went from $367,500 to $368,500. Overall, not a major increase. In fact, next to nothing. But looking at the big picture of year over year, we're still seeing a strong annual increase in value; smack dab in the middle of that "sweet spot" we mentioned earlier. A 8.7% increase for your home's value is a great return on investment. We love to see it.
So, the question is, why are the values of condos and townhomes increasing more rapidly than single family homes? We believe that due to higher interest rates, it's forcing buyers to look at purchasing at a lower price point. Many people can no longer afford single family homes at 7% interest. But, they still want to own. So instead of waiting for mortgage rates to come back down and miss out on a great investment, they're starting with a condo or townhome to build equity. In the same breath, we also think investors are starting to switch their focus from single family homes to townhomes. They offer a lower purchase price with a larger return. Typically, there's less square footage to renovate, lower maintenance, and more potential buyers. This trifecta allows for a quicker turnaround, which is exactly what investors are looking for.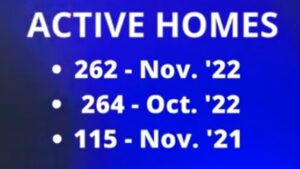 The number of active homes has also seen a steady increase year over year. In November of 2021, there were only 115 active townhomes and condos in Colorado Springs and surrounding areas. November of 2022 had 262 active homes. Month over month, we'll call this one a wash. But, slow and steady wins the race.
Looking at the big picture, we're thrilled to see that number has increased an astounding 127% year over year. Inventory hasn't been building as quickly as we need it to, but this jump in active homes is exactly what we'd like to continue seeing.
New homes listed in November dropped down to 143 from 165 in October. From this time last year, new listings are down almost 28%, from 198. After an insane couple years for real estate, it's hard to convey that the pace of the 2020-2021 market was not normal. The inevitable slowdown has caused sellers to become timid and we can see that reflected in these statistics.
During that market, mortgage rates were ridiculously low. Consequently, nearly everybody could afford to buy. More importantly, homes were selling for over asking and then appraising for that. It's no wonder why there were so many more listings.
Colorado Springs Market Update
To give more context on where these numbers come from, we use the entirety of the Pikes Peaks region. A six month inventory is considered normal in the real estate market. This means if we continue to sell homes at our current pace, without adding inventory, we'd last six months. With our current inventory in Colorado Springs real estate, we are nowhere near that.
With inflation and higher interest rates, we understand buyers are hesitant to purchase. But, keep in mind the year over year home value increases. Inventory is also steadily increasing year over year, allowing buyers to take their time, thoroughly research homes, and curate thoughtful offers. The luxury of having time on their side has caused buyers to even become a bit picky. On the flip side, sellers have grown weary to list due to homes taking longer to sell. However, it's perfectly normal for homes to sit for a month or so on average. Our perspectives became altered by the post-pandemic housing market. The last couple of years did not provide a stable benchmark of what we should expect.
If you ask us, interest rates were held too low, for too long. We should have been steadily increasing the rates since mid 2021. Then, in efforts to curb inflation, they took the band-aid approach and increased all at once, thus creating the market we're currently in.
Moving into 2023, everybody wants to know what the interest rates will be. In all honesty, we don't know! As far as speculation, the National Association of Realtors and the Mortgage Brokers Association believe home loan rates will be back down to 5%. We should have a better idea of what the year ahead holds as we get into the first quarter of the year. Here's to wishful thinking!
About The Author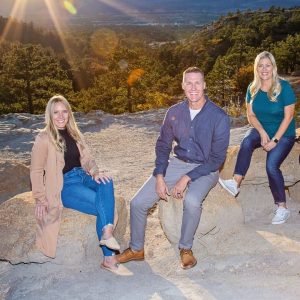 The team at My Front Range Living are a group of full time real estate experts serving Colorado Springs, El Paso County and the surrounding areas. Their knowledge of the local community and experience in the industry provide you incomparable value when buying or selling a home. With several years of experience in helping out of state buyers and sellers, they are the go-to team when it comes to relocating and helping Colorado feel like home.
Even if you're looking for an agent in another city or state, the My Front Range Living team has a network of experts that can connect you with the right professional.

Colorado Springs Relocation Guide
🏡 Moving to Colorado Springs? Download our FREE Colorado Springs Relocation Guide!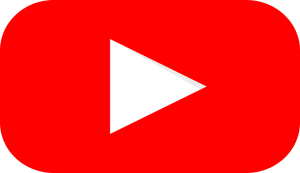 Learn More on the
My Front Range Living
every Monday! Thanks for watching!