Colorado Springs real estate 2021 was one of America's hottest real estate markets and we charted some new territory. Over the last several months in our monthly Colorado Springs real estate updates, we've talked about how competitive the market is in Colorado Springs when you're looking to buy a home. We want to expand on that and give you a better idea of what exactly we mean when we say that it's a competitive market and how you can be most effective when looking at homes for sale in Colorado Springs.
Mortgage Interest Rates
Mortgage interest rates today are currently hovering right around 3%-3.25% for a 30-year mortgage. Historically speaking, that's incredibly low. A low interest rate is going to help you get into a more expensive home that you wouldn't be able to afford if you had a higher interest rate. The average sales price of a home in Colorado Springs is going up and inventory is going down. There is still a lot of demand, which obviously makes for a very competitive market. We have found with some of our buyers here in Colorado Springs that we could do a better job of telling you exactly what it means to be buying a home in a competitive market. The first thing that you have to know is the reason that it's so popular to buy a house right now is because money is so cheap to borrow. 
Colorado Springs Rent And Basic Housing Allowance (BAH)
Rent prices are driving the real estate market as a whole. For those of you in the military, you understand that rent prices are based on the Basic Housing Allowance (BAH). Basic Housing Allowance for military personnel is published as public knowledge, meaning anybody is able to gain access to this information. Investors are utilizing this information, buying rental properties, and pricing them out at top dollar, based on that housing allowance. This causes rent prices to go up and we receive feedback all the time – rent is simply too high right now in Colorado Springs. Due to this rent inflation, you can actually get a mortgage on a home for a lower monthly payment than if you were to rent the same exact home.
Appraisal Gap
It seems as though a large percentage of buyers lack an understanding of what exactly an appraisal gap is. In today's market, it's a very hot topic. The way of the world used to be that cash was king. If you had a cash offer, people liked it. Cash made for a simpler transaction, and people love convenience and ease. Now, cash is necessary just to be a contender. An appraisal gap is a prime example of that.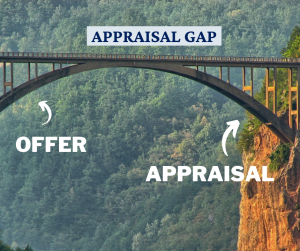 To provide a better understanding of what exactly an appraisal gap is, here's an example from a buyer's perspective:
Let's say you put an offer in on a house priced at $400,000. The home seems to be appropriately priced at market value and would appraise for right at that $400,000 mark. In this competitive market, you need a competitive offer, so you come in with an offer of $415,000. Great, now the appraiser comes in and reports that the home appraised at $405,000. While it's great that the home appraised higher than the asking price, it is still $10,000 less than what you offered. That $10,000 gap is what's known as the appraisal gap. You would be responsible for bringing that $10,000 in cash to cover it.
To boil it all down, all it means is the buyer will bring the cash to cover the difference between their offer price and the appraisal price. Realistically, in this market, people are offering more than $15,000 above asking. We often see buyers going well above asking and telling the sellers that they will give them 30k, 40k, 50k in cash as insurance for the appraisal gap to increase their likelihood of getting the house they want. It all circles back to the fact that interest rates are so low. It's really inexpensive to borrow money so rather than using their own cash for a large down payment, they'll take that cash and put it towards the appraisal gap instead. 
Down Payment On A Home
In today's market, you no longer need to have a large down payment. It used to be a general rule of thumb that you had to put 20% down. The reason everybody said that was because of the primary mortgage insurance: PMI. Essentially, the PMI "goes away" if you put twenty percent down. All you really need to have for your primary residence on a conventional loan is 5%. Oftentimes, you can get a down payment even lower than that. 
To provide a better understanding of varying percentages of down payments and other options to consider, let's break this down with an example:
On a $500,000 house you would need to have $25,000 down (for a 5% down payment). We're seeing that most buyers have that on hand, with ease. Let's just say a prospective buyer has $50,000 in the bank and they want to use that entire amount for their down payment. In previous times, that used to be a great idea, but in this market, sticking to only putting that 5% down and saving the other $25,000 for an appraisal gap is the smartest way to go. Again, it all circles back to money being so cheap to borrow right now. Interest rates are low. Use the bank's money for the long term loan and use your money to get your foot in the door of your new home.
VA Home Loans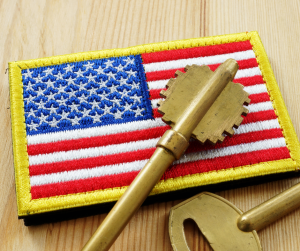 VA (Veterans Affairs) home loans are helping a lot of folks because so many are capitalizing on using their VA benefits right now. We fully support the military and we love the benefits it provides for our service men and women.
The downside is that the huge allure of VA loans that made them so appealing is that you didn't have to bring any money down. Buyers get a loan for the entirety of the home at the offer price with no money out of their pocket. The downside in this market comes back to that appraisal gap. You need to have some cash on hand to be able to offer above the home's value. Buyers in the military who are looking to take advantage of a no money down VA loan are left feeling stuck or disappointed because that's no longer the case.
We're currently navigating an extraordinarily competitive market. Buyers who do not have any cash on hand are finding it exceptionally difficult to be competitive with other buyers who are putting that cash into the market and going above asking price. It makes it very difficult to get your offer accepted without that, so keep that in mind. However, if you do have a little bit of money down, it might be better to go with an FHA or conventional loan over a VA. As always, talk with your lender about what might work best for you and your individual circumstances and needs.
Ways You Can Be Effective In A Competitive Market
If you are in a situation where you truly have no cash on hand, there are other ways you can be effective in a competitive market and combat your obstacles. Be patient and be diligent.
Do Your Research
Start looking at what's available on the market as soon as you think you may be looking. Do your research on prices and know what to expect. We know that's tough, especially for those of you in the military. Military orders can take some time to get an official date and orders in writing. We believe it's wise for you to reach out to us as soon as you catch wind that you may be moving to Colorado Springs. We can get ahead of the curve and set you up on a MLS search and start looking at homes.
Use Your Resources
Some buyers are hesitant to reach out before knowing for certain that they're moving. They worry they'll be wasting time or resources and that's just simply not the case. You have to start looking at homes on the market to give you a better idea of what to expect. The reality of it is that houses are selling fast! Homes are going active on a Thursday with all offers due on Sunday. That means showings start on Friday and that leaves you with Friday, Saturday, and maybe part of Sunday to take a look. In other words, buyers are looking at two and a half days to try and coordinate schedules to go and see a house. That's not a lot of time!
Be Prepared
Pressure is most certainly a factor in this market; be prepared by getting pre-approved by a lender and know what you can afford. From there, you can narrow down what part of the city you want to live in based on schools, work, etc. On our end, we work for you. The sooner we can schedule a showing, the better, because the sellers have the right to accept an offer at any time and you don't want to miss your window of opportunity. You know what they say, the early bird gets the worm!
Colorado Springs Real Estate Market
We don't like to play coy with our buyers; we're here to get you a home and offer you some perspective of just how competitive this market is. We went and looked at a house and our buyers decided they wanted to put an offer in. The conversation went a little something like this:
"How much time do we have to get an offer in?"
"Sorry, it literally just went under contract."
The home had gone on the market just the day prior. By the very next evening, it was under contract. We cannot emphasize enough how important it is to start looking as early as you can and schedule a showing as quickly as you can so you have a better opportunity of even submitting an offer, let alone getting yours accepted. We know it's a lot of information to digest. However, that's what it looks like to be in an ultra competitive market. 
Contingencies In Real Estate
A contingency is a future event or circumstance which is possible but cannot be predicted with certainty. For those of you who are needing to sell your home before being able to close on your new one, you need to understand that contingencies are something that people aren't even looking at anymore. Sellers are getting 8-20 offers on their home and none of them are contingent. If you need to sell your house before you can buy a different one, you're going to have to go even higher than the asking price. Sellers are going to have to navigate your transaction in addition to theirs. Therefore, offering extra money may be enough for them to see passed the contingency. 
We Can Help
These circumstances in particular don't apply to everybody, but whatever your circumstances may be – we can help. Reach out to us and allow the professionals to help you with your specific criteria and what it looks like for you because this market is absolutely insane. Inventory is super low, there's an overwhelming amount of demand, and prices are only going up. We can serve as your guide in how to navigate this real estate market and get your offer accepted. 
About The Author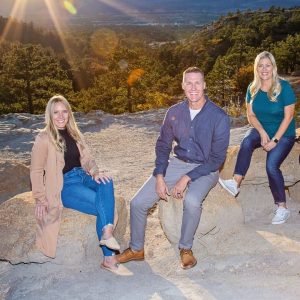 The Team at My Front Range Living are a group of full time real estate experts serving Colorado Springs, El Paso County and the surrounding areas. Their knowledge of the local community and experience in the industry provide you incomparable value when buying or selling a home. With several years of experience in helping out of state buyers and sellers, they are the go-to team when it comes to relocating and helping Colorado feel like home.
Even if you're looking for an agent in another city or state, the My Front Range Living team has a network of experts that can connect you with the right professional.

Colorado Springs Relocation Guide
🏡 Moving to Colorado Springs? Download our FREE Colorado Springs Relocation Guide!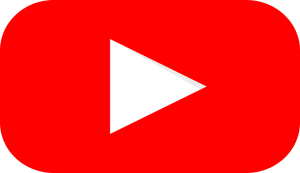 Learn More on the
My Front Range Living
every Monday! Thanks for watching!