Best Things To Do Near Colorado Springs in Summer
Colorado Springs is a vibrant city nestled in the scenic beauty of Colorado. If you're looking for exciting activities to enjoy during the summer season, you're in luck. From thrilling Jeep tours to fascinating wildlife encounters, Colorado Springs has a myriad of options to explore. Whether you're a resident or a visitor, these attractions will make your summer in Colorado Springs unforgettable.
Jeep Tour: Unveiling the Majestic Foothills
Embark on a Jeep tour that takes you on a thrilling adventure through the mesmerizing landscapes surrounding Colorado Springs. This tour will guide you to the renowned Broadmoor area and other popular tourist spots, offering ample opportunities to capture breathtaking photos of the scenic foothills. Don't miss out on visiting attractions like Helen Hunt Falls and the iconic Cheyenne Mountain. These locations provide remarkable experiences and serve as perfect backdrops for memorable photographs.
Cheyenne Mountain Zoo: An Interactive Wildlife Experience
Rated as one of the top zoos in the United States, the Cheyenne Mountain Zoo is a personal favorite for many. This engaging zoo offers incredible opportunities to get up close and personal with various animals. Interact with friendly giraffes and marvel at the diversity of wildlife. Explore the fascinating primate house and witness the playful antics of these intelligent creatures. Make sure to visit the elephant habitat and take a leisurely stroll to observe these majestic animals. The zoo also boasts a delightful surprise—a baby hippo. Despite its impressive size, it's affectionately called a "baby." Immerse yourself in the wonders of nature and create lasting memories at the Cheyenne Mountain Zoo. For more information on the Cheyenne Mountain Zoo, click here.
Royal Gorge: A Spectacular Natural Wonder
When we speak of attractions near Colorado Springs, the Royal Gorge stands out as a must-visit destination. Located near Canyon City, this breathtaking location can only be described as magnificent. If you're not afraid of heights, take a walk across the Royal Gorge Bridge, where you'll be rewarded with awe-inspiring views. For the adventurous souls, the highest zip line in North America awaits. Indulge in the adrenaline rush and enjoy an exhilarating experience. Additionally, you can try the sky coaster and explore Playland, where countless activities await. Take a leisurely train ride along the Arkansas River and savor a delightful meal as you immerse yourself in the stunning scenery. The Royal Gorge guarantees an unforgettable adventure. To plan your visit to The Royal Gorge, click this link.
Whitewater Rafting: Thrills on the Arkansas River
While you're in Canon City exploring the Royal Gorge, take advantage of the great whitewater rafting opportunities in the area. Guided tours offer a chance to experience the excitement of navigating through thrilling rapids. These adventures are perfect for adrenaline enthusiasts seeking an adrenaline-packed day. Soak in the beauty of the Arkansas River and relish the joy of conquering its challenging rapids. Ensure you check out these thrilling whitewater rafting opportunities while visiting Canon City.
Dinosaur Resource Center: A Journey Through Prehistoric Times
If you head west from Colorado Springs to Woodland Park, you'll discover the fascinating Dinosaur Resource Center. Enthusiasts of paleontology and dinosaur history will be captivated by this small yet impressive establishment. Delve into the world of fossils and gain insights into the region's rich dinosaur heritage. Engage in a little paleontological exploration and unearth the wonders of the past. The Dinosaur Resource Center promises an educational and entertaining experience for all ages. Dinosaur Resource Center
Colorado Wolf and Wildlife Center: A Howling Adventure
Just beyond Divide, in the town of Florissant, lies the Colorado Wolf and Wildlife Center. Step into a world where wolves roam freely, and wildlife thrives. Join a captivating wolf tour, interact with these majestic creatures, and witness their fascinating behavior up close. For a unique experience, consider participating in evening or full-moon tours. The center also offers the opportunity to explore the surrounding area's wildlife. A visit to the Colorado Wolf and Wildlife Center provides an extraordinary chance to connect with nature. Colorado Wolf and Wildlife Center
Florissant Fossil Beds: Nature's Time Capsule
While you're in Florissant, make sure to explore the Florissant Fossil Beds. Take leisurely walks through this nature preserve, which serves as a time capsule showcasing the area's ancient history. Discover fossilized remnants of plants and insects that lived millions of years ago. This immersive experience offers a glimpse into a bygone era, leaving visitors in awe of the Earth's vast geological timeline. For more information on the Florissant Fossil Beds, click here.
North Pole: Where Magic Happens Year-Round
At the base of Pikes Peak, you'll find the enchanting North Pole. Santa Claus himself has established his year-round residence in Colorado Springs. This family-friendly destination offers a plethora of rides and attractions that will delight children and adults alike. Create lasting memories as you enjoy exciting amusement park rides and engaging activities. The North Pole is a haven of wonder and joy, bringing out the childlike spirit in everyone. Santa's Workshop
Cave of the Winds: Uncover Mysteries Underground
As you head back towards Colorado Springs, don't miss the opportunity to explore Cave of the Winds, located just outside Manitou Springs. Discover the secrets hidden within the subterranean chambers and marvel at stunning cave formations. For the thrill-seekers, an adrenaline-pumping experience awaits on the Swing at the End of the World, which suspends you over a scenic valley. Cave of the Winds offers an adventure that combines natural wonders with a dash of excitement.  Cave of the Winds
Manitou Springs Penny Arcade: An Entertaining Blast from the Past
While you're in Manitou Springs, a visit to the Penny Arcade is a nostalgic treat. Step into this open-air arcade, where vintage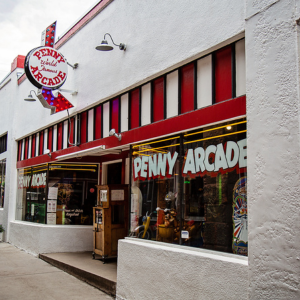 and modern games coexist, providing a nostalgic journey through time. Engage in classic games like Skee-Ball, and let the excitement of the past wash over you. Treat yourself to some delectable ice cream from nearby shops, relish delicious food, and create memories that will transport you to a bygone era.
Garden of the Gods, Pikes Peak and More
When it comes to things to do in Colorado Springs, there are a few iconic attractions that should not be missed. First on the list is the breathtaking Garden of the Gods. This natural wonder boasts majestic red rock formations that create a truly awe-inspiring landscape. Take a leisurely stroll through the park, go rock climbing, or even embark on a guided horseback tour to fully immerse yourself in the beauty of this geological masterpiece. Another must-visit destination is the legendary Pikes Peak, standing tall at 14,115 feet. Whether you choose to drive the scenic Pikes Peak Highway or challenge yourself with a hike to the summit, the panoramic views from the top are simply breathtaking. And for hiking enthusiasts, Colorado Springs is a paradise with an abundance of trails catering to all skill levels. From serene nature walks to challenging mountain treks, the city offers a diverse range of hiking experiences that allow you to connect with nature and soak in the pristine beauty of the Colorado landscape. So, lace up your hiking boots and get ready to explore the wonders of Colorado Springs, where adventure and natural beauty await at every turn.
Conclusion
Colorado Springs offers a wide range of captivating experiences for visitors during the summer season. Whether you prefer wildlife encounters, geological wonders, or nostalgic adventures, there's something for everyone. This list only scratches the surface of the activities available in Colorado Springs, with endless opportunities for outdoor enthusiasts, food lovers, and culture seekers. So, pack your bags, embrace the summer spirit, and embark on a journey that will make Colorado Springs feel like home. Subscribe to our Youtube channel and visit our social media  to stay connected with the latest updates and make the most of your time in Colorado Springs.
If you're looking for a place to eat while out adventuring, we've got you covered. Best Pizza Best Burgers
Happy exploring!