We're talking about the best food trucks in Colorado Springs. Our team loves supporting locally owned small businesses and eating delicious food. So, we visited a few food truck rallies and here are our favorites!
Food Truck Events in Colorado Springs
Looking for great food at great prices, all in one spot? Colorado Springs has several food truck hot spots. Here's where to find them: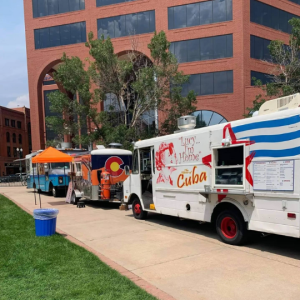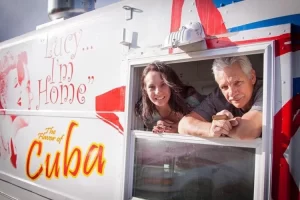 Hector Diaz and family are the owners behind 'Lucy I'm Home', a tribute to Cuban – American actor/singer/songwriter, Desi Arnaz. Desi is better known for his character role as 'Ricky Ricardo'. He was the TV & real-life husband to Lucille Ball, on one of America's first hit sitcom series from the 1950 – 60's era, remembered as 'I Love Lucy'. Thus the name given to the food truck.
They opened their family run food truck in 2015. Their location varies from day to day, so be sure to follow their Facebook page for updated whereabouts. In addition, they expanded their menu offerings in 2019 and opened their first and only brick and mortar. Visit and enjoy freshly prepared authentic Cuban dishes straight from the kitchen, right there on the patio. If you're a fan of a Cubano sandwich, we have it on good authority that this might be the best one you've ever had.
Chef Bob was born and raised in Watertown, MA, just outside of Boston, and started his professional journey over 40 years ago. He has a culinary degree from Johnson & Wales and is one of only a handful of Chefs to be awarded "American Culinary Federation Chapter  Chef of the Year" twice and was also awarded "Maitre du Gout" (Master of Taste) by the National Chefs in America Awards Foundation. In 1996, the US Culinary Olympic team asked him to be the team Chef to cook for them while they competed for Gold Medals in Berlin.
"Chef Bob's Lobstah Trap" is his way of bringing you some authentic New England fare from back home. His recipes are all developed by him personally and his goal is to bring you the highest quality food possible. Every part of his menu and ingredients have been carefully selected and evaluated to pass his strict standards. Recipes are home made or handmade, when possible, to ensure freshness. There is a saying, "The colder the water, the sweeter the meat." Therefore, Chef Bob only uses lobster from the waters off New England or Canada.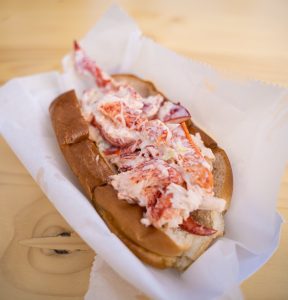 Check in on their Facebook page for their food truck schedule or stop by their brick and mortar off Powers and Barnes. The restaurant interior will immediately transport you to the east coast with images of the sea and a lighthouse. Our team highly recommends the Traditional Lobster Roll and the Lobster Mac & Cheese. Their newest venture has brought them to one of our favorite breweries, Red Leg Brewing Company. Joining in with several other local businesses, you can now grab your favorite foods and brews.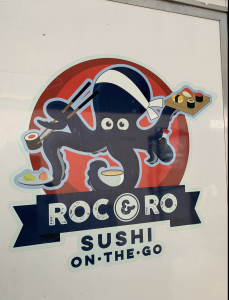 Roc N Ro Sushi offers traditional and deep fried sushi rolls, always fresh and made to order. Making appearances all over Colorado Springs, this food truck is one to find. Out of almost 100 reviews on Facebook, their reputation speaks for itself. It's no wonder they're booked out months in advance with their 5 star rating and creative cuisine. Whether you're looking for a bite on the go or a vendor for an event, they've got you covered. My first experience with Roc N Ro was at a neighborhood block party. The staff was friendly and attentive, and the food was gobbled up by me and my two children. In other words, you've got to try this place for yourself. Visit their Facebook page for the current menu and location.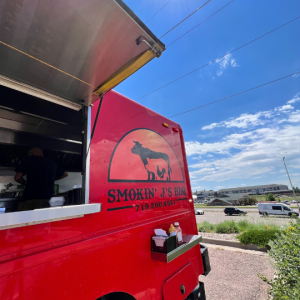 You had me at Ron Swanson. All Beef Smoked Sausage topped with pulled pork then topped with homemade slaw. If you've followed our team's social media for any length of time, then you probably know that Mark is a huge Ron Swanson fan. So, of course, we had to try it. The food is delicious, served hot, with generous portions. Smokin' J's BBQ caters in Colorado Springs at really affordable, per person, rates. Try their pulled pork or pulled chicken loaded on a flour tortilla with coleslaw and topped with a mango salsa. You will not regret it.
Miggy's Meltdown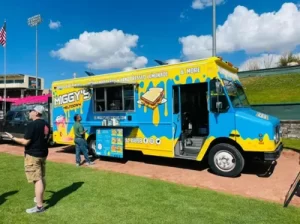 Miggy's Meltdown is a family owned, local business that began serving Colorado Springs in 2018. They serve gourmet grilled cheese sandwiches and fresh squeezed lemonade. With a menu that is simple yet delicious, there's something for everybody. What started from a pop up tent has grown into a state of the art food truck.
Our team recommends the Colorado Cheesesteak – a fan favorite! Grilled sirloin steak, grilled jalapenos and onions, cream cheese and swiss cheese, topped with chipotle aioli. It comes served on toasty white bread made locally. Add a side of fries for just $2 and you've got yourself one tasty meal. Quench your thirst with a 32 oz. cup of hand pressed lemonade. Try it as the original or add a flavor for a custom twist. Their weekly schedules are posted on their website, as well as their social media pages. If you are hosting an event or would like to have them serve at your office, church or school, contact them via email as they'd love to help.
You can typically find the Kabob Kaboose food truck serving up delicious skewers at a local brewery. First and foremost, the portions are incredibly generous. If you're anything like us, we come with an appetite and love to share plates, so this is a wonderful detail. Our team raves about the chicken and waffles. Crispy fried chicken served out of the fryer with a homemade cinnamon syrup. Looking to pair the sweet with something spicy? Get your kick with either their Buffalo or Campfire Chicken Kabob.
If you love what the owners are doing with this Colorado Springs food truck, be sure to check out their second truck, Kabowls. Kabowls offers globally inspired Korean BBQ composed rice bowls with bright ingredients and bold flavors you won't soon forget.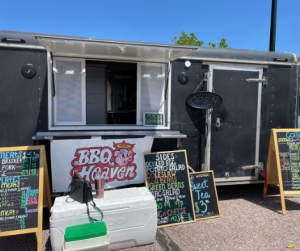 BBQ so good, you'll think you're in Heaven. This Colorado Springs food truck serves up some of the best brisket we've ever had. BBQ Heaven is a locally owned southern style BBQ business in Colorado Springs. Everything is homemade, straight from scratch, and the meat is smoked to perfection! They smoke everything from pulled pork, to ribs, to brisket, all the way to sausages. Pair the meat with one of several delicious sides, and you can't forget that heavenly peach cobbler to satisfy those sweet cravings!
The owner was an absolute delight of a gentleman. He provided great service and hospitality, as you'd expect from a southern joint. For such generous portions, we were really pleased with how reasonable the prices are. Be sure to check out their website for homemade rubs, made to order sides, and  incredible sauces. You won't be disappointed.
About The Author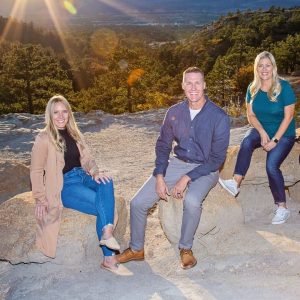 The team at My Front Range Living are a group of full time real estate experts serving Colorado Springs, El Paso County and the surrounding areas. Their knowledge of the local community and experience in the industry provide you incomparable value when buying or selling a home. With several years of experience in helping out of state buyers and sellers, they are the go-to team when it comes to relocating and helping Colorado feel like home.
Even if you're looking for an agent in another city or state, the My Front Range Living team has a network of experts that can connect you with the right professional.

Colorado Springs Relocation Guide
🏡 Moving to Colorado Springs? Download our FREE Colorado Springs Relocation Guide!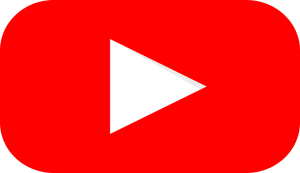 Learn More on the
My Front Range Living
every Monday! Thanks for watching!