The Colorado Springs housing market is slowing down. However, home values continue to climb. The real estate market in Colorado Springs is building inventory, which has become crucial over the last year. This is great news for buyers! Although mortgage interest rates are up, it remains true that now is as good a time as any to buy.
 Single Family Homes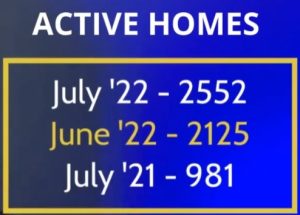 After a nationwide shortage of available homes over the last couple years, we're thrilled to see inventory growing. The market is making a comeback, allowing things to level out. For instance, available single family homes on the market increased from 2125 in June to 2551 in July of 2022. Moreover, we saw a 160% increase in inventory from 2021, when there were only 981 homes on the market. This is great news for buyers as it provides some relief from bidding wars.
Sales of single family homes dropped 18% from June to July of 2022. The number of homes sold went from 1712 to 1403. Colorado Springs is seeing an even larger decrease in sales from July of last year. We experienced almost a 24% drop from 1844 sales.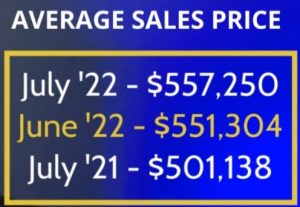 In contrast, the Colorado Springs housing market is continuing to see an increase in average sales price. The average sales price of single family homes in July of 2021 was $501,000. July 2022 closed out with an average of $557,000, which is up $6,000 from the month before. This pattern tells us with absolute certainty that homes in Colorado Springs are continuing to increase in value.
Townhomes and Condos
Townhomes and condo sales in Colorado Springs followed suit. Sales in July were down 4.6% from June, dropping from 218 to 208. Even more drastic is the reduction of sales from 2021. Townhomes and condo sales have decreased 13.7%, from 241 to 208, year over year.
However, average sales price has continued to increase, much like we saw with single family homes. From June to July in 2022, average sales price went from $366,000 to $374,000. Similarly, that is a  huge jump up from $325,000 in July of 2021.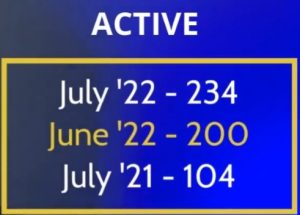 The number of active homes has also seen a steady increase. In July of 2021, there were only 104 active townhomes and condos on the Colorado Springs housing market. Much to our pleasure, we're thrilled to see that number increase 125% year over year. July 2022 had 234 active homes, which was up from 200 just the month before.
Growing inventory and home values is a win/win for buyers and sellers alike.
Colorado Springs Market Update
To give more context on where these numbers come from, we use the entirety of the Pikes Peaks region. A six month inventory is considered normal in the real estate market. This means if we continue to sell homes at our current pace, without adding inventory, we'd last six months. With our current inventory in Colorado Springs and the rate at which we're selling, we don't even have two months of inventory.
Contrary to popular belief right now, we are nowhere near a housing market crash. In comparison to sales over the last couple of years, sure, the market seems to be crashing. But, the last couple of years did not provide a stable benchmark. Those numbers created a false sense of reality. The housing market is stabilizing after an anomaly, created by unprecedented times of global phenomenon. Our current real estate market has 1/10 the amount of foreclosures that existed in 2010. We understand increased mortgage rates, midterm elections, and the change of pace can cause some uncertainty. The truth remains that it is a good time to buy. Allow us to help navigate you through the process.
About The Author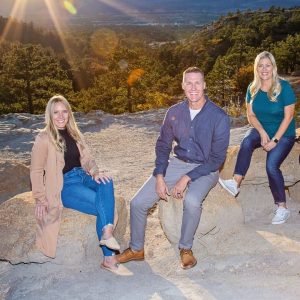 The team at My Front Range Living are a group of full time real estate experts serving Colorado Springs, El Paso County and the surrounding areas. Their knowledge of the local community and experience in the industry provide you incomparable value when buying or selling a home. With several years of experience in helping out of state buyers and sellers, they are the go-to team when it comes to relocating and helping Colorado feel like home.
Even if you're looking for an agent in another city or state, the My Front Range Living team has a network of experts that can connect you with the right professional.

Colorado Springs Relocation Guide
🏡 Moving to Colorado Springs? Download our FREE Colorado Springs Relocation Guide!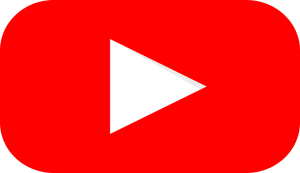 Learn More on the
My Front Range Living
every Monday! Thanks for watching!