When will the housing bubble burst? When will home prices start to go down? Why is housing in Colorado Springs so expensive? These are all questions we are getting on nearly a daily basis. People who are looking to buy a house in Colorado Springs know this real estate market is crazy and are hoping things will level out and/or drop, but the reality of it is, the demand for housing in Colorado Springs is really high and our inventory is at record lows.
Housing Market Crash
As we all know, America experienced a stock market and housing market crash in 2008. To summarize, the government made home loans accessible to borrowers who had low credit scores, who are more likely to default on loans. Adjustable Rate Mortgages were given to these borrowers at low monthly rates that would quickly increase. Borrowers couldn't keep up with the ever-growing payments, resulting in high numbers of defaulted loans. These subprime mortgages caused turmoil in financial markets and largely contributed to the collapse of the stock market.
Understandably, the real estate market changed. Builders, investors, and banks became a lot more cautious in order to prevent future loss. Many homebuilders went out of business while others stopped construction on homes without an existing contract. This way, at the very least, they could hold onto the buyer's earnest money if anything happened. However, this created a long term housing shortage.
Housing Shortage
Economists say we didn't build enough for a decade. According to Mike Kingsella, CEO of Up for Growth, America has fallen 3.8 million homes short of meeting housing needs. The housing shortage goes for rentals and ownership across all corners of the United States. Strong demand and low supply mean higher prices. In just the last couple years, we've seen home prices rise more than 30%. Therefore making homeownership unaffordable for millions of people.
Due to demand, we reached unprecedented statistics on homes. For instance, homes were being sold, sight unseen, within hours. Moreover, multiple offers caused bidding wars, resulting in homes selling for upwards of $100,000 over asking. In addition, buyers were forced to come in with more appealing offers, bringing all cash to the table with no contingencies. This is simply unsustainable and begs the question, is there a housing bubble? Is the housing market going to crash?
Lessons Learned
Fortunately, adjustments were made after the Great Recession. Banks no longer hand out money to unqualified borrowers. Mortgages come with tighter underwriting standards. Credit score has become a much more important factor when configuring home loan amounts. One's credit score is calculated based on frequency of credit utilization and payment history. It measures the amount of risk a lender can expect if the loan is approved. With banks carefully calculating risk, the number of defaulted loans decreases, thus creating a more stable market.
Mortgage Interest Rates
Interest rates have steadily climbed since mid 2021. From late 2020 through early 2021, we saw record breaking low interest rates. This brought an influx of buyers that couldn't previously afford ownership and allowed buyers to afford more expensive properties. Increasing mortgage rates will regulate the market by raising the cost of buying a home. People that cannot get approved for loans at 5% interest will be forced to rent, reducing demand, and allowing the market to cool down.
Inflation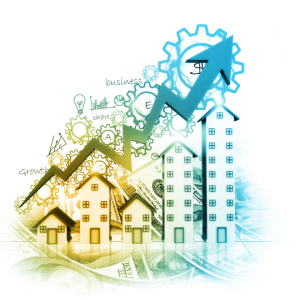 In general, higher interest rates are a policy response to rising inflation. The two are directly tied. Because higher interest rates mean higher borrowing costs, people will eventually start spending less money. Once people stop spending so much money, inflation falls and economic growth needs to be stimulated, resulting in lower interest rates.
Inflation is currently on the rise. Consumer prices have soared 9.1% over the last year, which is the largest increase in 40 years. Economists attribute the high inflation to an imbalance between supply and demand. Due to the COVID pandemic and global wide production slows, low supply is an issue across all markets. Until supply picks back up to pre-pandemic norms, we can expect interest rates to stay put.
In conclusion, we do not believe there is a housing bubble. Loans are given more carefully and interest rates have risen. The standard for buyers to qualify is higher than before and our market is stable. Interest rates are still at a historic low and now is a good time to buy!
About The Author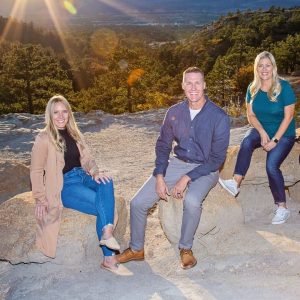 The team at My Front Range Living are a group of full time real estate experts serving Colorado Springs, El Paso County and the surrounding areas. Their knowledge of the local community and experience in the industry provide you incomparable value when buying or selling a home. With several years of experience in helping out of state buyers and sellers, they are the go-to team when it comes to relocating and helping Colorado feel like home.
Even if you're looking for an agent in another city or state, the My Front Range Living team has a network of experts that can connect you with the right professional.

Colorado Springs Relocation Guide
🏡 Moving to Colorado Springs? Download our FREE Colorado Springs Relocation Guide!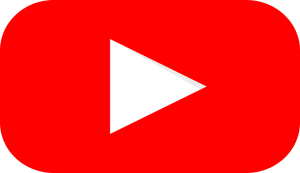 Learn More on the
My Front Range Living
every Monday! Thanks for watching!