Colorado Springs has a ton of great options for breweries. The craft beer scene is one of the things we love most about living in Colorado Springs.
Local Craft Beer
Colorado Springs and the surrounding area is home to about 20 craft breweries.  Within the craft brewery category, there are distinctions between microbreweries, brewpubs, and regional breweries. A microbrewery is a limited-production brewery, typically producing specialty beers and often selling its products only locally. A brewpub is an establishment selling beer brewed on the premises and often including a restaurant. There are several varieties of beer: ales, porter, stout, lager, wheat, sour, specialty and more. Brewers are experts of their craft. With breweries that offer a full menu, they can make food and dessert pairing suggestions to make the most out of your meal. Here are some of our favorite spots: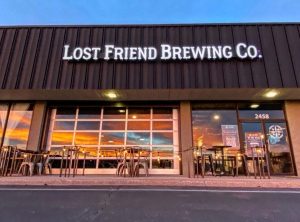 Lost Friend Brewing Company is a woman and veteran owned craft beer brewery located in northeastern Colorado Springs. They pride themselves on being very dog friendly. For instance, their name actually comes from the owner's uncanny ability to find lost dogs. They've nicknamed these dogs their "lost friends." They even have carabiners at the tables to hold your leashes, leaving your hands free for enjoying a beer while playing a board game or reading a book. The sunlit taproom and killer view of Pikes Peak invites you to relax and stay a while. They host local food trucks each day which change frequently.
Above all, they are driven by passion for good beer, science, and a strong sense of community.  They share the belief that everybody should be able to enjoy craft beer, and that neighborhoods have the power to improve the quality and choices of beer throughout the country.
Our favorite things about Lost Friend Brewing is their outdoor patio and wide variety of beer selection. We highly recommend the following:
Homeward Bound – Hazy New England IPA. Bright citrus flavors, hazy, and juicy with a silky mouthfeel. Citra hops in the whirlpool and dry hopped with Azacca, Citra, and Huell Melon hops.
7.1% ABV | 40 IBUs
Fearthainn –

Scottish Wee Heavy. Dark color with dried fruit and whiskey aroma, rich molasses flavors, with a pleasant warming alcohol finish. A strong and malty Scottish style ale.
8.4% ABV | 24 IBUs
The motto of JAKs Brewing Company is meant to bring a smile to your face, but it has a far deeper meaning.  Just as their name refers to the founders (Jeff, Antonio and Ken), their logo's red star and the unit emblems and photos on the walls all point to the rich heritage, culture and sense of belonging that so characterizes the Air Force family. So, while JAKs makes "Aggressive Beer for Aggressive Beer Drinkers," they are unapologetically family-focused, community-oriented, and proud of their roots. Find them just east of Colorado Springs in Falcon, Colorado.
We love JAKs for their super cool atmosphere. It has a hometown feel where everybody knows your name. They are partnered with nearly a dozen food trucks that work a revolving schedule.
Our top rated beer from JAKs is JAKRabbit. It is a complex, flavorful India Pale Ale (IPA) that is light in color and quadruple hopped with centennial. This ale has a refreshing bite and great aroma. 5.9% ABV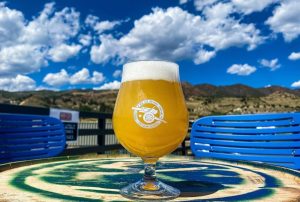 Located off Garden of the Gods, Red Leg offers stunning mountain views. Red Leg Brewing Company is a veteran-owned and operated production brewery located in Colorado Springs. The term "red leg" derives from the Civil War battlefields, where artillery soldiers wore a cardinal stripe on their pant leg to denote their location on the field of battle.
Their spacious 4,000-square-foot facility is ideal for those who want to spend an enjoyable afternoon with family and friends tasting a variety of craft beers and other offerings. In their taproom, they offer made-in-house craft beers, as well as local guest taps, ciders, kombuchas, and wines. Their expansive lawn hosts musical acts, maker's markets, exercise classes, community events, and so much more!
We just recently hosted a client appreciation event at Red Leg. Their team was incredibly responsive, knowledgeable, accommodating, and did a fantastic job of catering to our client's beverage needs. We recommend:
Helo Hefe Hefeweizen – A pale, hazy, light-bodied & refreshing German-style wheat beer with a distinctive banana & clove yeast character with a dry finish. 5.3% ABV
Local Relic features 18 always rotating taps. In addition, they're home to nearly 100 bottles between the regular and member's exclusive lists. There's a bit of a catch 22 here. You're always going to have new drinks to try and we promise you'll never leave disappointed. However,  if you find a drink you absolutely love, enjoy it while you can because it's likely to leave the menu soon.
This brewery is located downtown in a repurposed chapel. The atmosphere is absolutely one of a kind. Complete with a full menu, Local Relic serves food every minute they're open, so come hungry!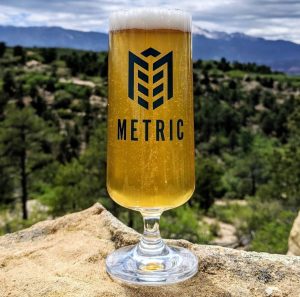 Metric brewing serves small batch craft beer and limited release styles in the Knob Hill Neighborhood. From clean lagers and funky sours to warm barrel aged offerings, they're rolling out new beers weekly. We adore the owners over at Metric. They're fantastic people, serving out of a fantastic location. The patio is one of highlights of this brewery, which also happens to be dog friendly, so bring your 4 legged friends! Metric hosts Trivia night every Tuesday. You can show off your knowledge and win beer prizes in return. With a rotating food truck schedule, this brewery makes for the perfect night of food, drinks, and games.
Our team visited over the holiday season and enjoyed one of their seasonal special brews: the Yukon Cornelius peppermint hot chocolate stout. Say that five times fast! We've enjoyed their Belgian triple, which has a very robust taste and has 9.3% ABV. Another one of our favorites was Pascal's Treasure, which makes for a very easy drink. It goes down smooth and would easily be a crowd favorite. 
About The Author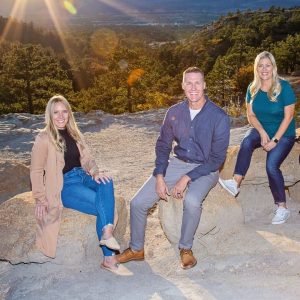 The team at My Front Range Living are a group of full time real estate experts serving Colorado Springs, El Paso County and the surrounding areas. Their knowledge of the local community and experience in the industry provide you incomparable value when buying or selling a home. With several years of experience in helping out of state buyers and sellers, they are the go-to team when it comes to relocating and helping Colorado feel like home.
Even if you're looking for an agent in another city or state, the My Front Range Living team has a network of experts that can connect you with the right professional.

Colorado Springs Relocation Guide
🏡 Moving to Colorado Springs? Download our FREE Colorado Springs Relocation Guide!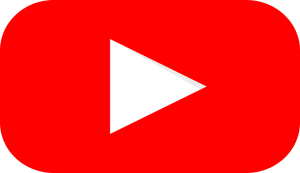 Learn More on the
My Front Range Living
every Monday! Thanks for watching!