The Colorado Springs real estate market experienced ups and downs in 2022. It's amazing how quickly the market can change, which is why we provide monthly updates! Whether you live in Colorado Springs or are moving to Colorado Springs, we highly suggest knowing what's going on in our market.
Single Family Homes
New Listings
As we walk through our market update, it's important to remember this includes the entire Pikes Peak MLS. It is not narrowed down specifically to Colorado Springs. We added New Listings in the recent months because we've been watching inventory. By monitoring our inventory, we're able to compare our current market to the housing market crash of 2007-2009.
Many people believe we're entering a similar market, but let's look at the stats. Approximately 300 fewer new homes hit the market in December than November or 2022. Year over year we saw a similar decrease, marking a 34% drop in new inventory. Which, in all reality, we expect to see fewer new listings as we enter the colder, holiday months.
Single Family Home Sales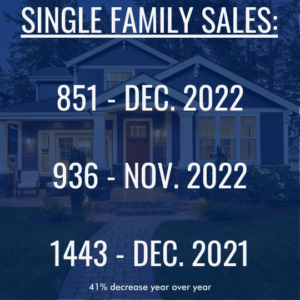 Single family home sales in the Pikes Peak MLS have dropped 41% from December 2021 to December of 2022. Month over, the same trend continued with a 9% decrease in sales. In November 2022, 936 single family homes were sold, while December closed out with 851 sales. Numbers are continuing to shift as a whole and we fully acknowledge that these are large differences. However, after a couple years of unprecedented supply and demand, we anticipated some counterbalance in years to follow.
Average Price of a Home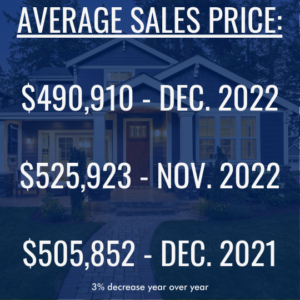 What are buyers paying for a single family home? Well, this can be good news and bad news. The average sales price of a single family home for the entirety of 2022 was over half a million dollars and it finally dipped just below that at $490,900. For some buyers, that 6.7% drop in just one month may be the exact thing they need to get their foot in the door. Conversely, sellers may be wary to list, which is indicated by the lack of new listings.
For the first time in the last few years, home values have decreased year over year. While a 3% decrease doesn't mean the sky is falling, sitting between a 6%-10% increase is what we call the "sweet spot" for sustaining a reasonable market. Long term, this is going to be a critical statistic to keep our eye on.
Active Single Family Homes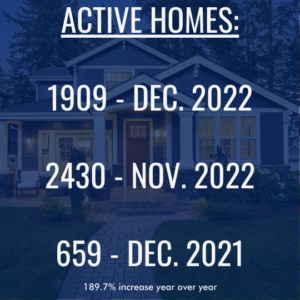 Although we saw a 21.4% month over month decrease in active homes, we're thrilled to see inventory growing year over year.  Year over year, active homes on the market have absolutely. The Colorado Springs real estate market saw a 190% increase in inventory from 2021, when there were only 659 homes for sale.
We've hit a really interesting point in the market where sellers aren't really ready to list until they start seeing more of a demand from buyers. On the flip side, buyers aren't eager to purchase at the same rate they were just a year ago. Buyers are backing off due to higher interest rates, but after years of getting the short end of the stick, they're now looking for a good deal. However, this shift in the market has caused sellers to become increasingly timid. Between homes sitting on the market for longer and sellers having to meet more contingencies, they're simply not listing. Although inventory and home values are down, it is not the precipitous value drop that we saw in 2008.
Condos and Townhomes
New Listings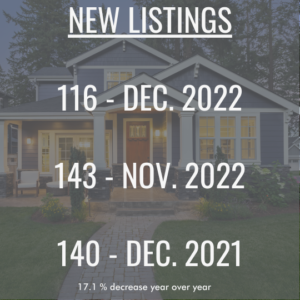 Condos and townhomes followed most all of the same trends as single family homes. The Pikes Peak region had a 18.9% drop in listings, 143 to 116, in November to December of 2022. Again, as predicted, winter months tend to hold less inventory. Year over year, listings fell from 140 to 116, a 17% decrease. Overall, half the decrease we saw from single family homes, but a drop nonetheless.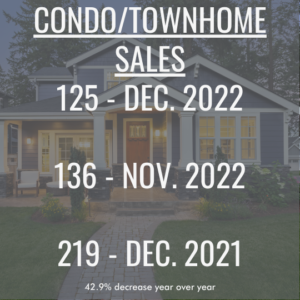 As you can imagine, we also saw a decline in the amount of sales for condos and townhomes. From November to December of 2022, there were 11 less sales, marking an 8% drop. When you look at sales this time last year, we saw a more dramatic change. Sales went from 219 to 125, which marks 43% fewer sales. Yes, sales have dropped, but that goes hand in hand with a reduction in inventory.
Average Cost of a Townhouse
The average sales price of condos and townhomes broke trend and actually went up! Month over month, we're splitting hairs at a $57 increase. However, an increase is an increase and we'll most certainly take that over moving backwards. More importantly, year over year we're continuing to see a steady rise in home value for condos and townhomes in the Colorado Springs real estate market. Home values increased 4.8% and although that's under our "sweet spot" we talked about earlier, it's still a great sign of a strong market.
We believe these entry level homes are on the rise due to investors coming in and bumping up those prices. Either way, this is advantageous for buyers and sellers. With prices staying relatively flat month over month, it gives buyers time to get in at their prequalified amount. Sellers are thrilled to be getting a return on their investment, even after a short time living there. Overall, they're a strong investment and a great option for first time homebuyers.
Active Homes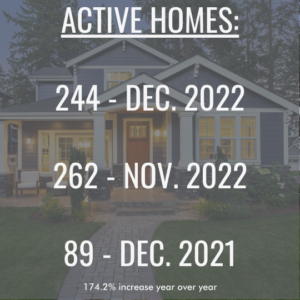 We remember 2021 and the high demand for homes, due to low inventory. Since this time last year, our inventory has grown by 174%. That is huge. From last month, our inventory did take a small hit. About 7% fewer condos and townhomes hit the market in December than November, but what we're focused on is the exponential growth over time.
The point is, sellers are slowing down. It's important to note that average days on market have gone up incrementally every single month for the last six months. We're now at 41 days on market so we are beyond a full month on the market, on average. In the same breath, the value is there. We may have hit a bit of a snag with single family homes, but not in the condo and townhome sector. Our market remains strong and like we always say, now is as good of a time as any to buy.
Colorado Springs Market Update
To give more context on where these numbers come from, we use the entirety of the Pikes Peaks region. A six month inventory is considered normal in the real estate market. This means if we continue to sell homes at our current pace, without adding inventory, we'd last six months. With our current inventory in Colorado Springs real estate, we are nowhere near that.
With inflation and higher interest rates, we understand buyers are hesitant to purchase. We will always have ups and downs in real estate. But, keep the bigger picture in mind – long term investment. Inventory is steadily increasing year over year, allowing buyers to take their time, thoroughly research homes, and curate thoughtful offers. The luxury of having time on their side has caused buyers to even become a bit picky. Meanwhile, sellers have grown weary to list due to homes taking longer to sell. However, it's perfectly normal for homes to sit for a month or so on average. Our perspectives became altered by the post-pandemic housing market. The last couple of years did not provide a stable benchmark of what we should expect.
If you ask us, interest rates were held too low, for too long. We should have been steadily increasing the rates since mid 2021. Then, in efforts to curb inflation, they took the band-aid approach and increased all at once, thus creating the market we're currently in.
Everybody wants to know what the interest rates will be throughout 2023. In all honesty, we don't know! As far as speculation, the National Association of Realtors and the Mortgage Brokers Association believe home loan rates will be back down to 5%. We should have a better idea of what the year ahead holds as we get into the first quarter of the year. Here's to wishful thinking!
About The Author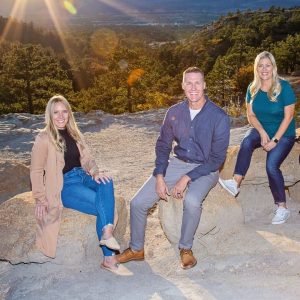 The team at My Front Range Living are a group of full time real estate experts serving Colorado Springs, El Paso County and the surrounding areas. Their knowledge of the local community and experience in the industry provide you incomparable value when buying or selling a home. With several years of experience in helping out of state buyers and sellers, they are the go-to team when it comes to relocating and helping Colorado feel like home.
Even if you're looking for an agent in another city or state, the My Front Range Living team has a network of experts that can connect you with the right professional.

Colorado Springs Relocation Guide
🏡 Moving to Colorado Springs? Download our FREE Colorado Springs Relocation Guide!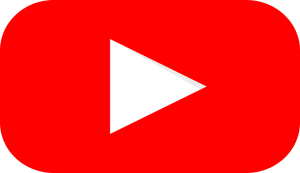 Learn More on the
My Front Range Living
every Monday! Thanks for watching!