Did you receive Permanent Change of Station orders to the Air Force Academy in Colorado Springs? Wondering where you should live? Here are some great neighborhoods in Colorado Springs and surrounding areas.
Military Housing
Receiving orders for a Permanent Change of Station leaves military members with the decision of where to live. During basic training and initial job training, all enlisted service members are required to live in the barracks. When service members move to their permanent duty station, only single members are required to live in unaccompanied housing. Families, on the other hand, are offered on-base housing. In addition, they also have the option to rent or buy off base.
The military offers BAH – Basic Allowance for Housing. The Basic Allowance for Housing is based on duty location, pay grade, and dependency status. Moreover, it provides uniformed Service members equitable housing compensation based on housing costs in their local civilian housing market. This monthly allowance can be used toward rent or the purchase of a home.
Air Force Academy Family Housing is privatized housing that offers quality of living. Located in Colorado Springs, Colorado, Air Force Academy Family Housing is made up of two distinct, vibrant communities. These communities encompass a variety of floor plans and amenities at fair prices. Residential Management is responsible for managing the community, which includes general maintenance and any necessary repairs.
Air Force Academy Neighborhoods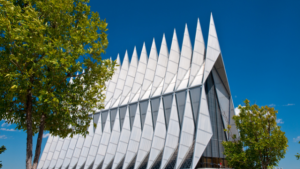 Living on base can be wonderfully convenient, but it's not what suits each family's needs. In other words, some prefer a more civilian lifestyle. Here are some great neighborhoods that are close by:
Rockrimmon is a great option for those looking to utilize the south gate because it lies right at the border. Northgate and Flying Horse are ideally located for quick access to the north gate of the academy. The Northgate area, along the Interquest corridor, is booming with commercial growth. It's a fantastic area to be in with all the new restaurants, shopping, and loads of family friendly entertainment. For instance, it has The Summit bowling, Top Golf, and indoor skydiving.
In addition to these communities, Flying Horse, Cordera, and The Farm are all expanding. New build homes are plentiful, as well as existing homes. Monument and Palmer Lake are both towns located just north of Colorado Springs. They offer a slower pace of living, have a charming history, but are also developing at a rapid pace. Each area has their own unique advantages.
Air Force Academy School Districts
The Colorado Springs housing market is largely impacted by the school district. Neighborhood costs will vary based on the district they are zoned in. The two main school districts on the north end of Colorado Springs are districts 20 and 38. For instance, these districts come highly accredited. This implies the surrounding neighborhoods come at a higher price tag. Stretching the budget may be worth it to get your school-aged children in your desired district. However, if the schools don't matter to you, your BAH will go a lot further in other areas.
Academy District 20 is one of the largest school districts in Colorado. It serves more than 25,000 students, spanning over 21 elementary schools, eight middle schools, and seven high schools. In addition, they have The Classic Academy Charter School and online school, JK8. Lastly, ASD20 has some of the highest graduation rates in the state.
Lewis-Palmer School District 38 serves approximately 6,500 students. It primarily serves Palmer Lake, Monument, Woodmoor, and north Black Forest. D38 has five elementary schools, one middle school, and two high schools. Much like D20, it also has a charter school that serves PK-10th grade students. District 38 continues to be accredited with distinction by the state of Colorado, with a top ranked high school.
About The Author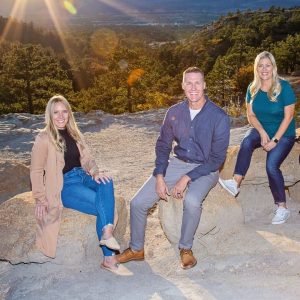 The team at My Front Range Living are a group of full time real estate experts serving Colorado Springs, El Paso County and the surrounding areas. Their knowledge of the local community and experience in the industry provide you incomparable value when buying or selling a home. With several years of experience in helping out of state buyers and sellers, they are the go-to team when it comes to relocating and helping Colorado feel like home.
Even if you're looking for an agent in another city or state, the My Front Range Living team has a network of experts that can connect you with the right professional.

Colorado Springs Relocation Guide
🏡 Moving to Colorado Springs? Download our FREE Colorado Springs Relocation Guide!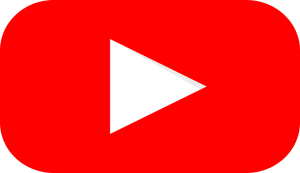 Learn More on the
My Front Range Living
every Monday! Thanks for watching!