Did you receive Permanent Change of Station orders to Fort Carson, Colorado? Wondering where you should live when stationed at Fort Carson?  Here are some neighborhoods in Colorado Springs that are conveniently located near Fort Carson.
Military Housing
When a member of the U.S. military receives orders for a Permanent Change of Station, they are met with the decision of where to live. During basic training and initial job training, all enlisted service members are required to live in the barracks. When service members move to their permanent duty station, only single members are required to live in unaccompanied housing, or barracks. Families, on the other hand, are offered on-base housing or they can rent or buy off base.
The military offers what is known as BAH – Basic Allowance for Housing. The Basic Allowance for Housing is an allowance based on duty location, pay grade, and dependency status. It provides uniformed Service members equitable housing compensation based on housing costs in their local civilian housing market. This monthly allowance can be used toward rent or the purchase of a home.
Fort Carson Family Homes serves as the on-base housing community for active duty Army families assigned to Fort Carson. They also welcome qualified military retirees and DOD civilians in select neighborhoods. Living on base can be wonderfully convenient, but it's not what suits each family's needs. In other words, some prefer a more civilian lifestyle.
Fort Carson School Districts
The Colorado Springs housing market is largely impacted by the school district. Whether you're looking to buy or rent, neighborhoods will vary based on the district they are zoned in. Districts around Fort Carson:
Harrison School District 2
Widefield School District 3
Fountain Fort Carson School District 8
Cheyenne Mountain School District 12
There is certainly a ranking system on these school districts. As you begin researching homes and neighborhoods, you'll see which ones are more expensive. Stretching the budget may be worth it to get your school-aged children in your desired district. However, if the schools don't matter to you, your BAH will go a lot further in other areas. Based on the BAH calculations for 2022, you'll have plenty of housing options whether you have dependents or not.
Fort Carson Gates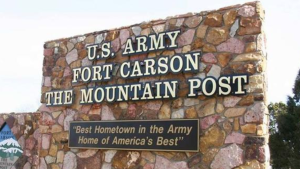 There are several entry points to get on base. First, being on the far west side gives you an entrance to the north and the east. Living on the west side of Colorado Springs puts you in proximity to districts 2 and 12. The north gate is right in the middle of district 2.
Second, being over on the east side puts you in the Widefield/Security/Fountain area. Neighborhoods in that part of town include:
Lorson Ranch
Broadmoor Bluffs
Lastly, please understand that you are not tied down to the southwest part of town. If you're willing to commute in order to live up north in district 20, do just that. The beauty of Colorado Springs is that you can choice into any school district you'd like. So, whether you're far east or north, you can head over to your duty station and drop your kids off close by. No matter where you are, the My Front Range Living team is happy to help in any way we can!
About The Author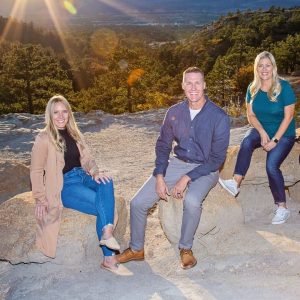 The team at My Front Range Living are a group of full time real estate experts serving Colorado Springs, El Paso County and the surrounding areas. Their knowledge of the local community and experience in the industry provide you incomparable value when buying or selling a home. With several years of experience in helping out of state buyers and sellers, they are the go-to team when it comes to relocating and helping Colorado feel like home.
Even if you're looking for an agent in another city or state, the My Front Range Living team has a network of experts that can connect you with the right professional.

Colorado Springs Relocation Guide
🏡 Moving to Colorado Springs? Download our FREE Colorado Springs Relocation Guide!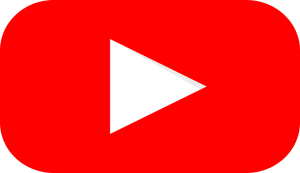 Learn More on the
My Front Range Living
every Monday! Thanks for watching!